Description
Presumpscot Falls Trail: The Presumpscot Falls Trail follows the north side of the Presumpscot River reaching points both high above and very near the shoreline, making it a short but surprisingly challenging trail. This packed earth trail winds through the woods encountering many tree roots. The trail ends at a viewpoint of Presumpscot Falls, near the location of the former Smelt Hill dam. This is a very popular fishing area, especially for striped bass. Private property beyond this point is marked and should be respected.
Walton Park: Walton Park's trail is an easy, ADA-compliant gravel route that loops down to the Presumpscot River. At the end of the trail, the town of Falmouth maintains a metal gangway to a floating dock in the river.
Other Information
In 2001 Portland Trails and the City of Portland Landbank Commission teamed up with the state's Land for Maine's Future program to save 68 acres of land along the Presumpscot River by creating the Presumpscot River Preserve. The Smelt Hill Dam, erected in 1731, was removed in November 2002. The Presumpscot River Preserve lies on either side of the former dam site and next to Presumpscot Falls—now flowing freely for the first time since the dam was built. Interpretive signs on both sides of the river describe dam's removal and the reemergeance of the beautiful waterfall.

This trail passes through a property that was acquired in part with funds from the Land for Maine's Future program. For more information about the LMF program and the places it has helped to protect, please visit the LMF webpage.
Trail Manager
Visit Portland Trails and the Town of Falmouth online for more information or contact: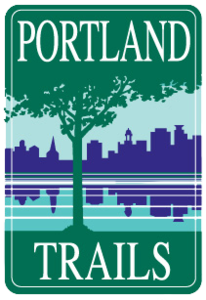 Portland Trails
305 Commercial Street
Portland, ME 04101
Phone: (207) 775-2411
info@trails.org