Description
Each of these Presumpscot River trails can be enjoyed separately or linked together for a longer riverside experience in this beautiful area.
On the Westbrook side of the river is a three-fourths mile rustic path through woods and fields that parallels the Presumpscot River and East Bridge Street. Uneven tall-grass and packed-earth surfaces. To reach the bridge over the Presumpscot River to Portland, hikers must walk in the road for tenth a mile. For cyclists, a shoulder offers a reasonably safe connection.
On the Portland bank of the river, the trail links to the Presumpscot Boat Launch and the Riverton section of the Presumpscot River Trail. A paved path from the Waste Management parking lot leads to a wood and stone canoe-slide for canoes and kayaks. If you're not a boater, turn left at the water to take a narrow, packed-earth trail upriver. The trail is often steep, traversing several ravines, and offering excellent river views.
A right turn on the trail from the boat launch leads to Riverton Trolley Park. The trail crosses at the river's edge beneath US Route 302 to the park, avoiding the busy road above. Riverton Trolley Park offers a 2 mile loop of peaceful, gently-sloping, packed earth trails through woods and fields with river views.
Other Information
In 1896 Riverton Trolley Park welcomed throngs of people from the city who paid five cents to take the trolley from Portland. The park featured an outdoor amphitheater, croquet court, boat rides, a trout pond, a "casino" building by John Calvin Stevens, and scenic pathways. While little remains of its previous glory, the park is still a beautiful place for a walk.
These trails are part of the Sebago to the Sea project--a vision to establish a contiguous trail from Sebago Lake to Casco Bay connecting Standish, Windham, Gorham, Westbrook, Portland and Falmouth. Connecting six towns, this trail will provide residents and visitors with wonderful biking, hiking, walking and commuting opportunities. For more information, visit Sebago to the Sea.
Trail Manager
Visit Portland Trails online for more information and a printable map or contact: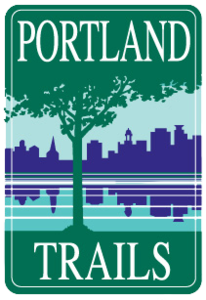 Portland Trails
305 Commercial Street
Portland, ME 04101
Phone: (207) 775-2411
info@trails.org