Description
The exceptionally beautiful trail network of the Presumpscot River Preserve encompasses parcels on both sides of the Presumpscot River. The Oat Nuts Park Trail is a wooded footpath and gravel trail that connects the neighborhood to the Presumpscot River Preserve. Once in the Preserve, the main trail follows a deep ravine away from the residential neighborhood and to the river's edge. There, signs direct the visitor to network of trails and side loops heading upstream or downstream, both offering spectacular river views. The trail is very steep in places. Boardwalks and bridges pass over wet areas, while allowing for mountain bike access. Upstream, the trail features several short loops into wooded, upland areas. That trail continues along the shoreline under the highway overpass for another 0.75 miles. Downstream, the trail crosses through property protected by the Falmouth Conservation Trust before it reaches Presumpscot Falls. The trail includes a portage to help paddlers around these swift rapids. Please respect private property at the end of the trail.
Other Information
The Presumpscot River flows from Sebago Lake to its outlet at Casco Bay. In 2001 Portland Trails and the City of Portland Landbank Commission teamed up with the state's Land for Maine's Future program to save this beautiful piece of land by creating the Presumpscot River Preserve. The Smelt Hill Dam, erected in 1731, was removed in November 2002. The Presumpscot River Preserve lies on either side of the former dam site and next to Presumpscot Falls—now flowing freely for the first time since the Dam was built. Interpretive signs on both sides of the river describe dam's removal and the reemergeance of the beautiful Falls.
Oat Nuts Park is a 1930-era subdivision of 10' x 10' parcels, the deeds to which were given away as prizes from Oat Nuts cereal. The City of Portland has reclaimed the parcels and created a public park. The Lyseth/Moore Trail can be reached via sidewalks on Summit Street and Sumac Street.

This trail passes through a property that was acquired in part with funds from the Land for Maine's Future program. For more information about the LMF program and the places it has helped to protect, please visit the LMF webpage.
Trail Manager
Visit Portland Trails online for more information or contact: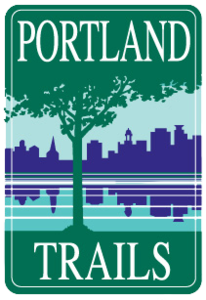 Portland Trails
305 Commercial Street
Portland, ME 04101
Phone: (207) 775-2411
info@trails.org