Description
Rangeley Lake State Park covers 869 acres in the heart of Maine's Western Mountains. Visitors enjoy hiking, picnicking, camping, wildlife watching, photography, winter sports, and the long-established traditions of hunting and fishing. The lake's cool, clear waters extend nine miles and support world famous populations of Landlocked Salmon and Brook Trout.
The Park also offers two short hiking trails, allowing visitors to experience the natural world around them. While hiking the trails, be on the lookout for wildlife living in and around the park including deer, moose, red fox, owl, snowshoe hare, ruffed grouse, and a variety of songbirds.
The Moose Country Corridor Trail is a 0.7-mile, easy hike, and runs from just past the control station on the left, back onto the entrance road. This trail has nice, lush, green mossy undergrowth, surrounded by large stands of white and yellow birch with intermingled spruce and fir trees. Enjoy the peace and quiet away from the campground and take in the many sights and sounds of the surrounding forest.
The Shoreline Trail is 0.9 mile in all, flat terrain with many exposed roots, travels along the lake shore. Starting from the campground loop, the trail takes hikers on a serene walk through the woods and comes out at the park's swimming area lawn, offering a spectacular view across Rangeley Lake and Saddelback Mountain. Continue straight back into the woods where there are large birch trees to your right and the clear lake waters off to your left. The trail ends at the park's boat launch, which is a great way to end a hike, sitting along the shore and enjoying lunch while overlooking the pristine lake waters and surrounding mountains.
View BPL's map and guide for Rangeley State Park.
Other Information
The campground at Rangeley Lake State Park offers 50 campsites close to the beautiful lake shore. In addition, there is a picnic area, playground, and a boat launch with finger docks for both day users and campers. The park is open for day use from 9 A.M. to sunset. Observe wildlife from far enough away that they do not change their behavior. Do not follow or feed the animals. Please adhere to the Bureau of Parks and Lands carry in/carry out policy so that others may enjoy this special place. To make a reservation for camping go to Camp with Me.
Please keeps all pets leashed at all times and clean up after your pet.
Trail Manager
Visit Maine Bureau of Parks and Lands online for more information and a printable map or contact: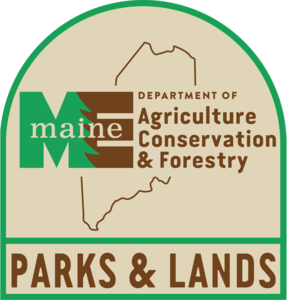 Maine Bureau of Parks and Lands, Rangeley Lake State Park
HC 32 Box 5000
Rangeley, ME 04970
Phone: (207) 864-3858