Description
Reid State Park holds the distinct honor of being Maine's first state-owned saltwater beach. In 1946, prosperous businessman and Georgetown resident Walter E. Reid donated land to the State of Maine to be preserved forever, and a few years later Reid State Park was established.
Today, thousands of visitors each year enjoy the park's long, wide sand beaches, such as Mile and Half Mile, which are rare in Maine. Although enjoyed as a recreational resource, the beaches are also important nesting habitat for endangered least terns and piping plovers, and provide resting and feeding grounds for other shorebirds. Even more rare than expansive sandy beaches along Maine's coast are large sand dunes, which Reid is also known for.
From the top of Griffith Head, a rocky headland overlooking the park, visitors can view sweeping seascapes and spot the lighthouses on Seguin Island, The Cuckolds, and Hendricks Head. Also visible are several islands, including: Damariscove, a thriving fishing community in Colonial times; Outer Head, protected as a tern sanctuary; and Southport, where noted naturalist Rachel Carson wrote Silent Spring.
The park offers two trails popular with hikers and bicyclists. The 2.14 mile Ski Loop Trail is best accessed from the Todd's Point Road. It makes a loop through the northern area of Reid State Park, primarily a mixed growth forest, with one section abutting a sizeable pond and bog area. Across the road from the pond is a historic one-room school house which is rich in history. As conditions allow, this trail is groomed in the winter for cross country skiing.
The Little River Trail, a 1.4 mile trail, can be accessed from Todd's Point. It follows the meandering Little River, which is home to a wide array of birds that feed on the small fish and plants of this area. Both trails have some moderate sections to hike with some exposed roots and rocks. The trails are relatively flat with a few small hills to climb.
A third trail is in progress, which will follow Reid State Park's existing power line, and be accessible from both the Todd's Point Road and the existing Ski Loop trail.
Other Information
Reid State Park is open all year. It is a day-use only facility, and camping is not permitted. The ski loop trail is groomed in the winter for cross-country skiing. Hikers are encouraged to prepare for mosquitoes that can be bothersome to those without proper clothing and/or repellent. Ticks can also be very prevalent from spring through late autumn. Reid State Park offers a group shelter available by reservation only, and reservations should be made well in advance. Visitors are asked to adhere to the Division's carry-in/carry-out policy so that everyone can enjoy this beautiful park.
Pets must be on a leash at all times, and are not allowed on the beach from April 1-October 1.

Natural Heritage Hikes is a project of the Maine Natural Areas Program in partnership with Maine Trail Finder. View the "Reid State Park - Little River Trail" guide online here.
Trail Manager
Visit Maine Bureau of Parks and Lands online for more information or contact: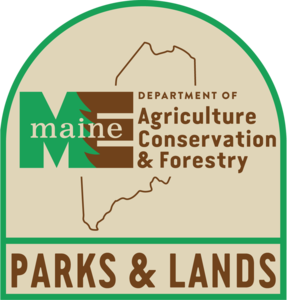 Maine Bureau of Parks and Lands, Reid State Park
375 Seguinland Road
Georgetown, ME 04548
Phone: (207) 371-2303