Description
Witness the power of the ocean tide. Dropping or rising an average of 20 feet every 6.4 hours, millions of gallons of water flowing into and out of Dennys and Whiting Bays pass through a narrow channel between Mahar Point and Falls Island. In this channel, a large ledge impedes the current creating the falls, deep whirlpools, and high swells. On the outgoing tide, the process occurs in the reverse direction, hence the reversing falls. A 12-foot drop between the two ends of the falls occurs at mid-tide.
Traditionally called Cobscook Falls, Reversing Falls are an unusual phenomenon on the Maine coast. The word Cobscook, derived from the Passamaquoddy work kapscook, means waterfalls. However, as the author Fannie Hardy Eckstorm writes in Indian Place Names of the Maine Coast, "these are not ordinary waterfalls; they are boiling tide over unseen rocks."
Visitors are likely to see seals playing in the falls. Bald eagles and many species of waterfowl and migratory birds can be observed from the shore.
The walking trail begins at the eastern parking lot and continues along the wooded shore and two spur paths lead off the trail onto peninsulas that provide varying views of the falls and an impressive panorama of Cobscook Bay.
Other Information
The currents at Reversing Falls can change quickly and dramatically with the tidal cycle. It is unsafe to swim or wade at Reversing Falls at any time. Boating in Reversing Falls should only be done with an experienced local guide.
Please practice carry-in/carry-out and leave no trace ethics. Please stay on the trail, moss, lichen and marsh soil are fragile. Please do not carve graffiti or initials in rocks, ledges or trees. For your safety, wear orange during hunting season. Fires, camping, ATV's and snowmobiles are not permitted.
The Town of Pembroke owns and maintains 32 acres at the point, including the parking area and fields.
Trail Manager
Visit Downeast Coastal Conservancy online for more information or contact: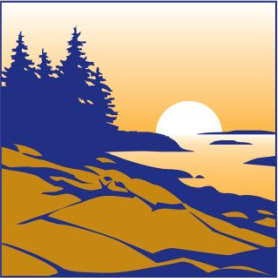 Downeast Coastal Conservancy
PO Box 760
Machias, ME 04654
Phone: (207) 255-4500
info@downeastcoastalconservancy.org
View website