Description
Beginning from the trailhead, the trail climbs very gradually along a dirt path. After 0.5 miles the trail reaches Rock Pond where there is a short trail that leads to the pond. The trail continues for another 0.2 miles before the trail splits with signs indicating the way towards the scenic overlooks and Midway Pond.
The trail towards the lookouts climbs at a moderate rate before reaching the two lookouts. Shortly after the first split there will be another intersection with a cut off to the Midway Pond Trail. Bear right to continue to the lookouts. At the second lookout, 0.5 mile from the first intersection, the trail terminates and you need to turn around to return.
Taking the cut off trail that connects the Midway Pond Trail provides the chance to visit Midway Pond for more views on the way back. Return along the Midway Pond Trail past the cutoff and back to the first intersection, where you follow the main trail past Rock Pond to the parking area and trailhead. All of the trails are well marked and have signs at intersections that designate the destination of different trails.
Trail Manager
Visit Saddleback Maine for more information and a printable map or contact: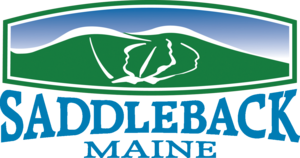 Saddleback Maine
PO Box 490
Rangeley, ME 04970
Phone: (207) 864-5671
info@saddlebackmaine.com
View website