Description
Less than an hour drive from the White Mountain National Forest, Sabattus Mountain is located in the small town of Lovell. Two Land For Maine's Future Grants enabled the State to purchase this 177 acre parcel which was made possible because of the cooperative efforts of the Bureau of Parks and Lands and the Greater Lovell Land Trust. This trail is also used for showshoeing in the winter months.
The well marked loop trail begins from the parking lot where the trail splits a short distance up the trail. Either path will lead to the summit of Sabattus Mountain. The trail traverses through a mixed growth forest with some moderate climbs over a few sections of exposed roots and ledge. Closer to the summit, the trail becomes less steep and winds through a hemlock/pine growth forest.
Once at the summit, the southwest side provides several overlooks along immense cliffs that provide outstanding views with several memorial benches where one can enjoy a picnic lunch, watch hawks glide in the thermals, or just take in the breath taking views. At the summit, one can see Kezar Lake, the ski trails of Shawnee Peak, the White Mountains of New Hampshire, and several other great natural features. The overlooks also provide an excellent area to view the spectacular fall colors with sweeping views of the surrounding country side.
While walking the trails, look for a variety of spring flowers and other wildlife including racoon, fox, squirrel, deer, and many songbirds. Several geological features and a diverse ecosystem can be observed while hiking along the trail.
Although the trails are a moderate hike, please be aware that the summit has some vertical cliffs and caution should be used at these lookout points.
Other Information
The area is open from sunrise to sunset. Be aware that the parcel is open to hunting during firearms season and hikers should use caution when hiking during this time. Hunters are reminded that discharging a firearm within 300 feet of a trail is prohibited. Please adhere to the Bureau of Parks and Lands carry in/carry out policy so that others may enjoy this special place.
Please keeps all pets leashed when on trails and clean up after your pet.

This trail passes through a property that was acquired in part with funds from the Land for Maine's Future program. For more information about the LMF program and the places it has helped to protect, please visit the LMF webpage.
Trail Manager
Visit Maine Bureau of Parks and Lands online for more information or contact: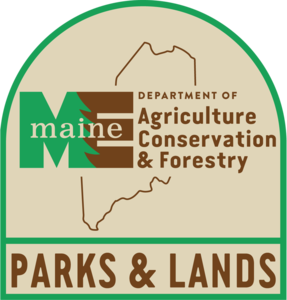 Maine Bureau of Parks and Lands, Southern Region Parks Manager
107 State House Station
Augusta, ME 04333
Phone: (207) 624-6080
Gary.Best@Maine.gov