Hide Map
Trailhead
From Sanford, go west on US 202/ME Route 11 take a right onto Center Road - after passing The Depot Road intersection (blinking light) in East Lebanon. Go straight through Center Lebanon and take a left onto TM Wentworth Road. Go straight on Champion Street to its end and take a sharp left onto Prospect Hill Road. Park by the Prospect Hill Cemetery. The trail leads into the woods just past the cemetery on the right.
Alternatively, from US Route 202 turn onto Depot Road (at the blinking light) in East Lebanon. Turn left onto Heath Road in 2 miles and in 2 more miles turn right onto Center Road. Take the first left onto Shapleigh Road. In 1.7 miles, turn right onto Dixon Road, and continue onto School House Lane to its end. Take a right onto Prospect Hill Road and the Salmon Falls Reserve trail will be on the left just before the Prospect Hill Cemmetery.
Via New Hampshire, take Spaulding Turnpike Exit 17 and go east on NH Route 75 to NH Route 25. Go north on NH Route 25 and turn into Maine on Champion Street. Keep right onto Prospect Hill Road, and park by the Prospect Hill Cemetery. The trail leads into the woods just past the cemetery on the right.
Description
This preserve has stunning frontage on the Salmon Falls River just above beautiful falls, dam, and old mill property located in New Hampshire. The Salmon Falls Preserve Trail runs about 350 feet from Prospect Hill Road just south of the cemetery to where the property opens up into a mostly hardwood forest. At that point the trail branches. If you turn right you head downhill to the river edge where you meet up with a well-established, narrow walking trail along Salmon Falls River among coniferous, mostly hemlock, trees. Follow the river by turning left and heading southerly. Before the Preserve ends the walking trail turns inland and uphill, making a loop back to where you began.
Be careful on the ledge along the river, it may be slippery.
Other Information
The Property and trail are managed by Three Rivers Land Trust volunteers; Please use the property responsibly, respectfully, and at your own risk. Carry out anything you carry in. Fires and motorized vehicles are not permitted.
Dogs must be under control.
Trail Manager
Visit Three Rivers Land Trust online for more information or contact: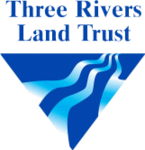 Three Rivers Land Trust
PO Box 906
Acton, ME 04001
Phone: (207) 324-3733
info@3rlt.org
Nearby Geocaches

Check for nearby geocaches to Salmon Falls Reserve.
Leave No Trace Principle
Leave What You Find
Avoid the introduction or transport of non-native species. Use local firewood from within 50 miles and clean, drain, and dry water equipment when moving between water bodies.