Description
A gentle short rise from the trailhead soon dips back down to where a bog-bridge crosses a brook. Within this section there is a small opening with a view of Cape Jellison. There are a few more small rises and several short bog bridges over wet areas. Mixed conifers and deciduous trees with varied understory growth reveal stone walls reminiscent of the island's past livelihoods. Keep your eyes open for some amazing trees, many from multiple coppiced trunks. Just beyond the mid-point of the trail an old slate-covered well on the left marks a short spur to the farmhouse cellar remains. A large field from the grazing days is now being kept open by bush hogging. From here the trail bears right and leads out, through high grasses, ferns and berries, to the gravel road. A left turn will lead to 2 more short trails while a right turn will take you back out to the gate.
Until the late 1980's when the causeway was built, Sears Island was accessed only by boat or via a sand bar at low tide – this was considered an asset for early grazing farms in the late 18th century. Farming, grazing, and fishing prevailed in the 19th and early 20th centuries. The old farm along the trail was owned by the Sears family and leased to workers. A fire destroyed the buildings in 1917; although the main house was rebuilt the farming began to wane and in the 30's it was razed.
Part of the Homestead Trail was originally the farm road.
Other Information
There is only one porta potty at the end of the causeway by the gate. Be aware that hunting is permitted on Sears Island. During hunting seasons wear some bright orange clothing and nothing white. Season dates are posted at the kiosk. There are no camping or fires on the island.
Horses are not allowed on the trail, but pets are welcome as long as they are under control and their owners pick up the waste. There are doggy poop bags and a designated bin at the gate.
Trail Manager
Visit Friends of Sears Island online for more information or contact: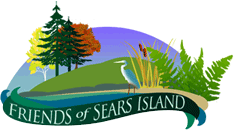 Friends of Sears Island
PO Box 348
Searsport, ME 04974
Phone: (207) 548-0142
mramsdell4@roadrunner.com
View website