Description
Beginning at the ME-237 trailhead and kiosk: walk across ME-237 and head north-west toward ME-35 through conserved forest along the unpaved trail. Follow Sebago to the Sea Trail signs. Cross ME-35 [Caution: High speed road] and proceed along Pond Road (paved) to the end where you will see another kiosk. Follow the unpaved Pond Road trail north for approximately 1 mile to a trail on the left that will lead you to the lakeshore.
From the alternative parking lot on ME-35: Follow the unimproved trail west to the unpaved Pond Road and the Sebago to the Sea Trail. Turn right and follow the Sebago to the Sea Trail over unpaved ground to the lakeshore.
Other Information
Trail guidelines:
Fill out a Portland Water District permit at the kiosk before using the trail.
Please respect private property adjacent to the lakeshore.
No restrooms available.
Horses are not allowed on the beach.
Swimming is allowed at the lakeshore - as it is just outside the 2-mile no bodily contact limit.
No lifeguard - swim at your own risk.
More information about allowed uses and restrictions on the Portland Water District's Sebago Lake Land Reserve here.
Presumpscot Regional Land Trust supports healthy lands, waters, wildlife, and people across the Presumpscot River watershed through conservation, water quality monitoring, education, and public access. Our success is based on member support. To learn more and become a member go to www.prlt.org.
Trail Manager
Visit Sebago to the Sea Trail online for maps and information, or contact the Presumpscot Regional Land Trust: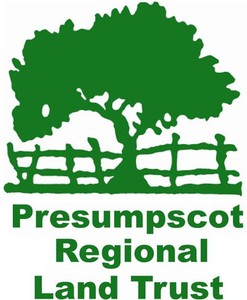 Presumpscot Regional Land Trust
PO Box 33
Gorham, ME 04038
Phone: (207) 536-8623
info@prlt.org