Description
This short woodland trail features an abundance of large pines, ferns, mosses, and mushrooms. Boardwalks along the way help keep feet dry, but there is a small stream crossing that might require a hop in the wetter seasons.
Just beyond the trailhead, a mailbox provides a trail journal, maps, and a lost-and-found. Follow the blue well-blazed trail in either direction when the trail splits, avoiding the woods road that runs through the center of the property. About halfway around the loop, there is a short trail extension that allows hikers to avoid a seasonal pond.
In the winter, this is an excellent trail for a quiet snowshoe or winter tracking excursion.
Trail Manager
Visit the Frenchman Bay Conservancy online for more information, or contact: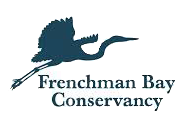 Frenchman Bay Conservancy
71 Tidal Falls Road
PO Box 150
Hancock, ME 04640-0150
info@frenchmanbay.org
View website