Description
The preserve's gentle, well-maintained trails over rolling, coastal terrain are perfect for foot or ski travel (ungroomed). Trails begin and end at a parking area and barn off Bayview Street. Crossing the salt marsh to the tidal river is not encouraged; please stay off these areas to avoid damaging the native natural communities which are sensitive to even the lightest foot traffic. The pond offers great skating opportunities in season, with attention to safety.
The interface between the freshwater impoundment and the salt marsh create the opportunity for a wealth of wildlife sightings. The freshwater pond was constructed in 1968 by the US Fish & Wildlife Service. Five interpretive signs stationed along the trail describe aspects of local ecology. Good birding sites are in the oak and pine stands, along the bluffs, the salt marsh edge, on the earthen dam, and the north end of the freshwater pond.
Please note these rules:
Dogs are allowed, but must be on a leash when they are within 300 feet of any trailhead, and on leash or under voice control on all trails. Pack out any solid waste and please pay attention to your dog's interaction with the natural world on this protected property.
Bicycles are not allowed.
Use of metal detectors is allowed only by permit.
Hunting is allowed but strictly regulated by permit from Town Hall. No discharge of firearms is allowed within 300 feet of a home, road, or trail.
Wear blaze orange during hunting seasons in May, October, and November.
Other Information
Owned and managed by the Town of Yarmouth, the property is protected by a conservation easement held by the Royal River Conservation Trust. The 55-acre preserve was conserved in three phases, along with an upriver 17-acre parcel. The most recent phase of conservation was a gift of land in 2011 by the Cattell family. The first two phases, in 2004 and 2005 were made possible by remarkably generous donations from neighbors and Royal River Conservation Trust members, the Land for Maine's Future program, federal funds, and the Trust for Public Land. A 17-acre nearby section of salt marsh, just upriver, was donated to the Royal River Conservation Trust by Ann Donaghy and Nancy Gunzelmann in 2004.

This trail passes through a property that was acquired in part with funds from the Land for Maine's Future program. For more information about the LMF program and the places it has helped to protect, please visit the LMF webpage.
Trail Manager
Visit Yarmouth Community Services online for more information or contact: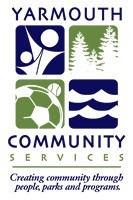 Yarmouth Community Services
200 Main Street
Yarmouth ME 04096
Phone: 207-846-2406
info@yarmouthcommunityservices.org
View website