Description
Generally, the trail follows city sidewalks with signs marking historic sites along the way. Photos are from the archives of the late photographer Fred Philpot and are used with permission from the Sanford/Springvale Historical Committee. The walk is bounded by Butler Street, Merrill Street, Main Street, Oak Street, Mill Street, Water Street, and Bridge Street. The exception to the sidewalk route is a wooded footpath that runs on both sides of the Mousam River.
Entrances are at Mousam Way Park, the par king lot behind Springwater Apartments, and a walkway behind Village View Apartments. From Mousam Way Park, follow a paved path downhill. Shortly on your right is a footbridge. Crossing the footbridge takes you to an island with views upstream and another bridge to Springwater Apartments and back to Bridge Street.
If you choose not to cross the footbridge, the trail takes you along the river to a pond in the river. The trail swings sharply left and climbs to a sewer trunk line that continues to the right. Continue uphill past the trunk line to Pleasant Street (do not follow the trunk line, as it crosses private property and you will soon come upon a fence).
Other Information
This area was first settled in 1739 and called Phillipstown in honor of William Phillips who purchased the land from the native Americans in 1661. In 1820, a calico cotton cloth printing factory was founded near the local spring. The owners named the village Springvale in commemoration of the spring and the Mousam River valley. The village continued to grow with the addition of several mills and factories. Successful businessmen lived along Main Street. The workers, mostly French Canadian, lived on the east side of the river. Three major events destroyed many of these buildings: a fire in 1905 destroyed the entire area around Bridge, Water, and Pleasant Streets. Although much was rebuilt, some mills moved south in the 1950s and 1960s. Then competition from Asia finished many shoe factories and woolen mills. The final blow was "urban renewal" in the 1960s and 1970s. Fine homes and businesses were destroyed. Fortunately, the people of Springvale have rebuilt many businesses and it continues to be a great place to work and live.
Trail Manager
Sanford Trails is an all-volunteer organization that promotes, builds, and manages trails in Sanford and Springvale. Learn more by visiting: www.sanfordtrails.org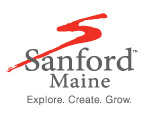 Sanford Trails
919 Main Street
Sanford, ME 04073
Phone: (207) 324-9135
eaoconnor@sanfordmaine.org
View website