Description
Multi-use Trails:
Old Yorktown Road (0.84 mi) – Wide gravel trail with gentle to moderate slopes. Leads to picnic areas and trailheads for most other trails.
Trail #1 (0.85 mi) – Begins along side slope in mixed forest and climbs hill to hardwoods near the highest point of the park. Connects with monument trail and Trail #2. Access to northern waterfall is near this intersection. Part of main snowmobile route to regional trails.
Trail #2 (0.39 mi) – Climbs side slope through mixed hardwoods with land dropping off steeply to the west. Several majestic pines are located just east of the trail. Access to central waterfall near top of the slope.
Foot Trails:
Esker trail (0.25 mi) – Narrow trail along sandy ridge winds through aspen and conifers. Provides shortest route from northern parking area to southwest hiking trails.
Rufus Jones Trail (0.77 mi) – Follows old skid trail along a gravel ridge with big pines then narrows until it reaches a black ash, tamarack & cedar swamp. Connects to Partridge and Moose Trails near southern boundary.
Partridge Trail (0.52 mi) – Rolling trail traverses a low gravel ridge through a fir and pine thicket. Makes a nice loop with Rufus Jones or Moose Trails.
Moose Trail (0.36 mi) – Follows route of a long discontinued county road through mixed forest. Passes through an area often used by moose in winter.
Deer Trail (0.34 mi) – Short loop trail that connects the southeastern part of the park with central and western hiking trails. Passes primarily through mixed hardwoods but skirts a small cedar thicket.
Monument Trail (0.24 mi) – Ridge top trail provides access to an 1838 monument stone marking China-Albion-Palermo town borders. Also marks boundary between Kennebec and Waldo Counties.
Other Information
Thurston Park is a carry-in carry-out park and there are no bathroom facilities. Park hours are 6 am to sunset except by permit. The road to the park is not plowed in winter. No motorized vehicles are permitted during mud season (Mar 15-May 1).
Trail Manager
Visit Town of China online for more information or contact: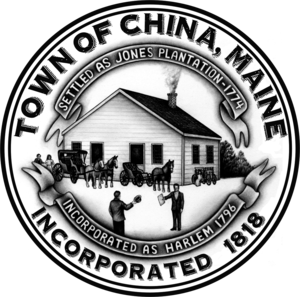 Town of China
571 Lakeview Drive
South China, ME 04358
Phone: (207) 445-2014
View website