Hide Map
Trailhead
From the Sullivan side of the Hancock–Sullivan Bridge on US Route 1 drive 2.5 miles to the small rest area on the right where parking is available. Directly across US Route 1, you'll see an abandoned section of road (Old Route One). Carefully cross US Route 1 and follow the FBC blue diamond trail signs to the right on the old road. Do not follow the yellow FBC boundary signs into the woods. After a short while, you'll see the FBC blue diamonds showing the trail up Tucker Mountain.
Description
This public easement of 121 acres includes the summit of Tucker Mountain and the slopes to the east and to the north, where there is an eagle nesting site and an area of wetlands. The easement allows for maintenance and expansion of the existing residence, limited commercial harvesting, and requires pedestrian access to the hiking trails.
Trail Manager
Visit Frenchman Bay Conservancy online for more information and a printable map or contact: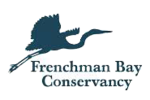 Frenchman Bay Conservancy
71 Tidal Falls Road
PO Box 150
Hancock, ME 04640-0150
info@frenchmanbay.org
Nearby Geocaches

Check for nearby geocaches to Tucker Mountain Trail.
Leave No Trace Principle
Minimize Campfire Impacts
Follow the Maine Forest Service fire regulations and check the current fire danger level before you go camping.