Description
The 1.5-mile hiking trail encompasses the entire 70-acre spruce covered island offering views of Penobscot Bay and nearby Camden Hills. Warren Island is a bird watchers paradise with many types of birds that can't be readily seen from the mainland. Over the past few years, several pair of ospreys that have taken up seasonal residence on the island and have built their nests high in the trees. These birds are great to enjoy from a distance, but their territorial rights are to be respected especially with young chicks in the nest. A pair of Great Horned Owls are seldom seen, but their haunting calls are almost always heard at night. Blue herons, seagulls, ducks, loons, cormorants, sandpipers, woodpeckers, and many other species too numerous to list can be seen at the park.
The trail allows access to nine campsites and two Adirondack shelters. Remnants of several houses can be found on your hike around this beautiful State Park. There is a beach on the southern end of the island where the water is cold but crystal clear and a few brave souls have cooled off swimming in this bay.
Visit the Warren Island page on BPL's website.
Other Information
At least a half dozen families lived on Warren Island during the nineteenth century. George Warren lived here for nearly 60 years and built a sturdy farmhouse which was surrounded by several acres of cleared farm land. Along the trail, there is a gravestone that marks the grave of Mrs. Zilica, wife of Isaac Thomas, who died at the age of 22. No one knows if she lived on Warren Island or on the nearby seven hundred acre island but she was buried on Warren Island. The island was acquired by the town of Isleboro in lieu of taxes in the 1900's. In 1958, the island was sold to the State of Maine for $1.00 with the stipulation that it be used for recreational purposes. The island was officially dedicated as a State Park on June 30, 1967, Maine's first state park developed exclusively for boating enthusiasts.
Warren Island State Park is part of the Maine Island Trail. For more information visit the Maine Island Trail Association online. Help preserve the unique experience of Warren Island by leaving the park's natural and historical features for others to enjoy.
There are no public services. Visitors are asked to carry out all trash that they may generate during their visit. Drinking water is available from a hand pump located on the middle of the island. There is limited staff on the island and no phones or electricity. Visitors are encouraged to familiarize themselves with emergency procedures posted at the visitor information center and to keep in mind to be prepared for drastic weather changes from wind, tide, and thick fog. Emergency messages for park visitors and campers may be delivered by contacting the staff at Camden Hills State Park at 207-236-3109.
Trail Manager
Visit Maine Bureau of Parks and Lands online for more information or contact: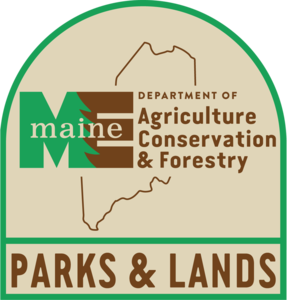 Maine Bureau of Parks and Lands, Lincolnville
PO Box 105
Lincolnville, ME 04849
Phone: (207) 446-7090 May 15 - Sept 15, (207) 941-4014 Sept 16 - May 14