Description
Connecting Jay, Wilton, and Farmington, this section of the former broad gauge Androscoggin Railroad (later the Maine Central) has been converted into a multi-use, four-season rail trail for everything from walking, biking, snowshoeing, and cross-country skiing to horseback riding, dog sledding, ATVing, and snowmobiling. Following the gentle curves and slopes of the railroad bed, the trail is generally wide and flat making it ideal for easy walks or for travelling long distances.
The trail traverses a variety of landscapes including scenic views Western Maine's foothills, forested wetlands, and rural farmland. Closely replicating the historic railroad setting, the trail also features several trestles spanning tree-lined streams and rivers. In Jay, old granite walls and culverts remain as testaments to both the railroad's legacy as well as to the nearby quarrying heritage of North Jay. A wayside exhibit details additional information about Maine and New Hampshire Granite Company that operated the quarries until the turn of the century. For more information about the quarries visit the nearby North Jay White Granite Park.
During the winter, cross-country skiing, snowshoeing and snowmobiling are permitted.
Other Information
Dogs are welcome if leashed and owners clean up after them. On multi-use trails, motorized vehicles must yield to non-motorized traffic. The Maine Bureau of Parks and Lands asks all visitors to demonstrate courtesy and respect to all other trail users as well as to adjacent landowners.

This trail passes through a property that was acquired in part with funds from the Land for Maine's Future program. For more information about the LMF program and the places it has helped to protect, please visit the LMF webpage.
Trail Manager
Visit Maine Bureau of Parks and Lands for more information or contact: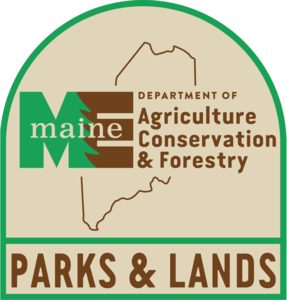 Maine Bureau of Parks and Lands, Off-road Vehicle Division
22 SHS
Augusta, ME 04333
Phone: (207) 287-4957