Description
Williams Mountain provides hikers the opportunity to climb above the working forests and remote ponds characterizing the lands between Misery Ridge and the Moose River. The overall grade of the trail is relatively modest with varied views along this primitive footpath.
AT THE MOMENT, the trail starts at temporary parking area where the minor logging road northeast of the mountain meets the main Williams Mountain Road. From here, walk farther up the road a little under 2,000 feet until reaching where the trail leaves the logging road on the right (just below the crest of the road). Not too long after leaving the logging road, the trail reaches the ridgeline and swings generally southwesterly passing along stony ledge and through previously harvested woodlands. Periodic partial views emerge. As hikers travel farther along the trail, several open areas cleared more fully by past harvests provide views to the south and towards the knob on which the fire tower sits. In particular, there are views southward towards Cold Stream Pond, a notable cold water fishery in the region.
Just before reaching the final climb to the summit, another path enters from the north. This path is not a designated trail and is not blue-blazed. Continue on the blue-blazed trail and climb the last tenth of a mile up a steep incline. There is a small lollipop loop just below the summit providing views across much of the remote lands unfurled below.
Slightly further up to the summit, a former fire warden cabin and fire tower sit as testaments to the now-abandoned fire detection system in which wardens watched over Maine's forests from often remote lookouts. The cabin and the tower are best viewed and not ventured into or on.
Other Information
The trailhead and summit area are planned to be owned by the Maine Bureau of Parks and Lands through a donation made by the Weyerhaeuser Company as part of the Moosehead Lake Region Concept Plan (2009 - Maine Land Use Planning Commission). The Concept Plan also enabled the construction of the trail itself, which is on land still owned by Weyerhaeuser but on which the State of Maine holds a trail easement.
You can volunteer on this and other trails managed by the Maine Bureau of Parks and Lands. Contact us if interested -- many hands are needed to keep Maine's trails beautiful and open.
Trail Manager
Visit Maine Bureau of Parks and Lands online for more information or contact: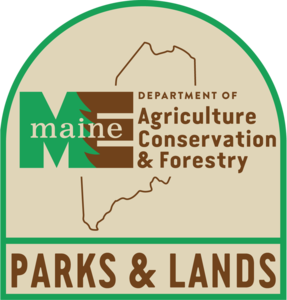 Maine Bureau of Parks and Lands, Western Public Lands Office
PO Box 327
Farmington, Maine 04938
Phone: (207) 778-8231
Tim.Post@maine.gov
View website