Description
This short out-and-back trail brings hikers to a dramatic cliff overlooking Wilson's Cove. The views up and down Middle Bay and across to Birch Island are spectacular. The end of the trail provides a quiet place to sit beneath the red oaks and take in the water, land and sky. On a still day, the reflection along the shore shimmers on the water and the retreating tide reveals seaweed-covered rocks for roosting gulls and cormorants. The Wilson's Cove Trail is on privately owned land that is protected forever by a conservation easement.
Other Information
VISITOR GUIDELINES
Open dawn to dusk.
Carry in, carry out.
Pedestrian use only.
Stay on the trail.
No overnight parking.
No open fires.
No camping.
Dogs must be on leash.
Carry out all dog waste.
No hunting or discharge of firearms.
Please respect wildlife, neighbors and other users.
This trail is on private property. Please respect the owner's privacy.
Power driven mobility devices are not allowed.
Trail Manager
Visit Harpswell Heritage Land Trust online for more information or contact: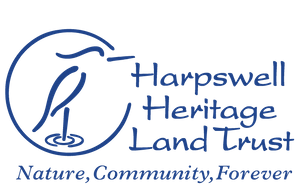 Harpswell Heritage Land Trust
PO Box 359
Harpswell, ME 04079
Phone: (207) 721-1121
info@hhltmaine.org
View website