Description
The farm's most popular trail is the Farm Loop Trail, which departs from behind the red Wishcamper Livestock Education Barn and winds along the water ending at Burnett Road. The trail crosses a bridge and winds through the woods on a well-maintained, blue-blazed trail and skirts the estuary. Along the way, visitors can see wilderness shelters built by the farm's children's education programs and stop at viewpoints of the estuary or see the local herons at Heron Hideaway. The Farm Loop Trail meets with a number of junctions that can be taken to get back to the trailhead in a short distance. To proceed on the full route, turn onto the red trail (left) at the intersection about halfway along the trail. The red trail is less well worn - moss and brush are common the trail. The red section of trail moves away from the estuary and ends on Burnett Road.
From the end of the Farm Loop Trail at Burnett Road, visitors can continue straight back on Burnett road to the parking area. For a longer walk, hikers can turn right onto Burnett Road and then left onto the road to the East Bay campsites and continue towards the Middle Bay campsites. The loop road around the campsites meets with the West Bay Trail, which begins at a prominent bridge. From here, the trail ascends and descends short hills and crosses a bridge with a beautiful view of the bay. The trail then crosses a field and comes to a road. Turn right on the road to return to the Little River Farmstead.
Other Information
Pets are allowed on the trails; however, they must be on a leash. Pet waste bags are also available for your convenience.
The are maps of the trails and the campsites available, free of charge, in the office, located in the white Little River Farmhouse. There are also a number of brochures available for users who would like to learn more about the facilities and programs at the farm.
In addition to hiking and camping, visitors can picnic on the coast, rent kayaks or bicycles, meet the animals in the barn, purchase produce and local goods in our Farm Store or lunch at the Farm Cafe, and explore the farm's organic gardens.
Wolfe's Neck Center is a nonprofit educational organization working to transform our relationship with farming and food for a healthier planet. Its 626 oceanfront acres are preserved and open free to the public thanks to the generosity of members and donors. Donations to support the farm can be made inside the Livestock Education Barn or through the website.
Trail Manager
Contact Wolfe's Neck Center for more information: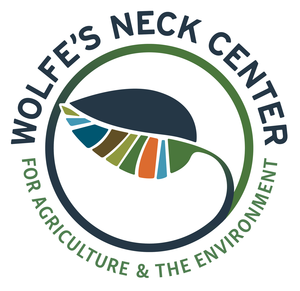 Wolfe's Neck Center for Agriculture & the Environment
184 Burnett Road
Freeport, Maine 04032
Phone: (207) 865-4469
info@wolfesneck.org
View website