Description
Woodlawn's trails were built as exercise tracks for the Black family's horses, and later automobiles were driven on them. Today they are used for walking, running, and ungroomed cross-country skiing and snowshoeing. Benches are provided near the peaceful lily pond and at other locations along the trail for rest and contemplation. Most of the trail is very wide, but some wetter sections feature bog bridging, which may be slippery when wet. A side trail visits Colonel John Black's tomb.
Other Information
Woodlawn has 180-acres to explore. Visitors can tour the historic Black House (plan 45 minutes to one hour for a tour), shop in our gift shop, come to afternoon tea, take a stroll through our gardens, participate in special events and activities, play croquet, enjoy a picnic on the grounds, or simply enjoy a walk on the grounds and trails. The park is open daily sunrise to sunset all year long. Please keep pets on leash and clean-up their waste.
Recently restored, Woodlawn's main house, also known as the Black House, is Federal in style with Greek revival overtones. Construction on the house began in 1824 and in late 1827 or early 1828 the family moved in. The brick was shipped from Philadelphia and is laid without a visible header course. There are seven chimneys servicing nine fireplaces. The last member of the family to live at Woodlawn was George Nixon Black, Jr. Today, the Black House contains all of its original furnishings and collections.
Trail Manager
Visit the Woodlawn Museum, Gardens, and Park online for more information, or contact: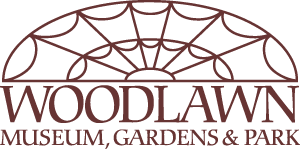 Woodlawn Museum, Gardens & Park
19 Black House Drive (Off of Route 172)
P.O. Box 1478
Ellsworth, Maine 04605
Phone: 207) 667-8671
director@woodlawnmuseum.org
View website