Description
Goose Eye Mountain, located in the wild and remote Mahoosuc Range, offers impressive summits with some outstanding attributes. Views are unobstructed and impressive in all directions. The massive Presidential Range is in the southwestern horizon and views to the west display parts of New Hampshire's north-country. To the north and northeast lie the remainder of the Mahoosuc Range along and the bulk of the nearly 32,000 - acre Mahoosuc Public Lands and 3,192-acre Grafton Notch State Park. To the south, views of the Androscoggin River Valley unfold.
The Wright Trail is 9.6 miles round trip, takes approximately 8 hours to climb up and back, and and includes close to 2,600 feet of elevation gain. This trail leads hikers through mature forests to the bald East Peak of Goose Eye Mountain, where stunning views unfold in all directions. Expect a rigorous hike on this rugged trail leading first along Goose Eye Brook then up to the AT and open summit area. Approximately 2.3 miles from the Bull Branch Road trail-head, the trail splits into a north and south fork below a steep-walled basin, near the one designated campsite along the Wright Trail. The north fork trail section (not shown on the map) is in need of significant repairs; the south fork is the recommended route up and down. The South Fork trail segment (shown) joins the Appalachian Trail between the west (main) and east peak of Goose Eye Mt. Head southbound on the Appalachian Trail to reach the 3,870' main peak in under a half-mile.
Backpackers sometimes use the Wright Trail as a starting point for hiking along the Appalachian Trail.
Other Information
The trail is completely within the 9,993-acre Mahoosuc Ecological Reserve, which, like all state Ecological Reserves, is specifically set aside to protect and monitor natural ecosystems. A fact sheet for this reserve can be found at online following the link above.
In hot weather, those looking for a place to cool off can seek out Frenchman's Hole - a swimming hole in the Bull Branch of Sunday River. The pristine Bull Branch rushes down through steep terrain and drops through interesting geological formations on its way downstream. Look for Frenchman's Hole a little less than a mile south of the trailhead on the Bull Branch Road.
Trail Manager
Visit Maine Bureau of Parks and Lands online for more information and a printable map or contact: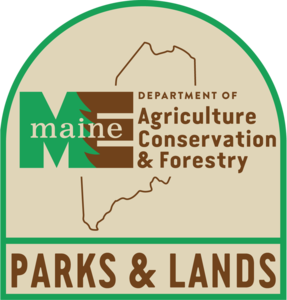 Maine Bureau of Parks and Lands, Western Public Lands Office
PO Box 327
Farmington, Maine 04938
Phone: (207) 778-8231
Tim.Post@maine.gov
View website