This is a guest post written by Enock Glidden, MTF Accessibility Ambassador, Public Speaker, Adaptive Athlete, and Adventurer. To learn more about Enock, please visit his website.
Hey fellow hikers! I finally made a trip to Farmington to check out the new accessible trail at Prescott Field. I had planned to go to the ribbon cutting last year but life got in the way. Before I checked out this beautifully done trail, I decided to visit an less well-known preserve less than a mile away.
Powder House Hill Trails
I ventured to the Powder House Hill Trails. Based on the description at Maine Trail Finder it seemed like it might be a good source of adventure for those of us that desire trails that are a more rugged than perfectly accessible.
The description is as follows
"Trail users will find trail resurfacing, remarkably enhanced drainage, new bridges, plus new trail name signs and kiosks. The main trailhead kiosk at the Flint Woods and Village Woods parking area includes a new, detailed map. All the trails in this priceless, community resource are now more suitable for year-round use by outdoor enthusiasts of all abilities and ages."
That phrase -- "now more suitable for year-round use by outdoor enthusiasts of all abilities and ages" -- really got me. I had to find out for myself.
When I arrived I found yet another well-done parking lot with a great kiosk. I took a picture of the map. I then set off to what seemed to be the only entry point to the forest. If you look very closely at the map there is a Maine Trail Finder logo on it.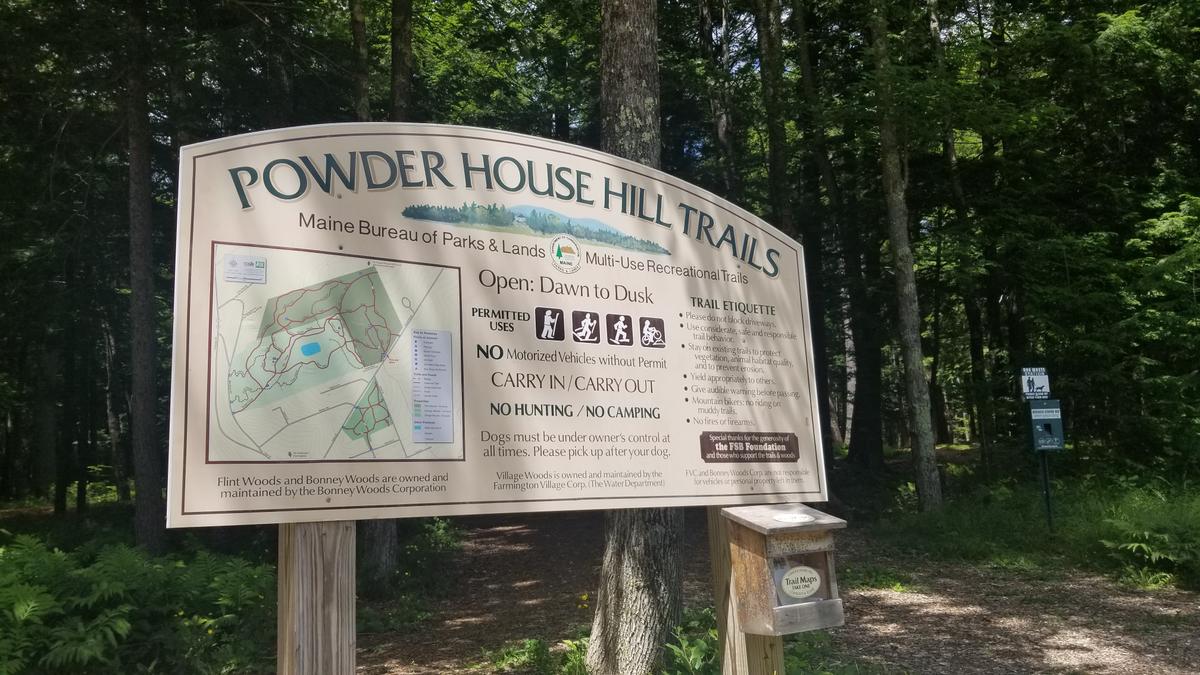 Sign at the parking lot for the Powder House Hill Trails.
The trail surface is wood chips which concerned me at first. I thought it might be very soft and hard to push over. I was completely wrong -- the surface was amazing. It was so much better than gravel. I never got caught up by it.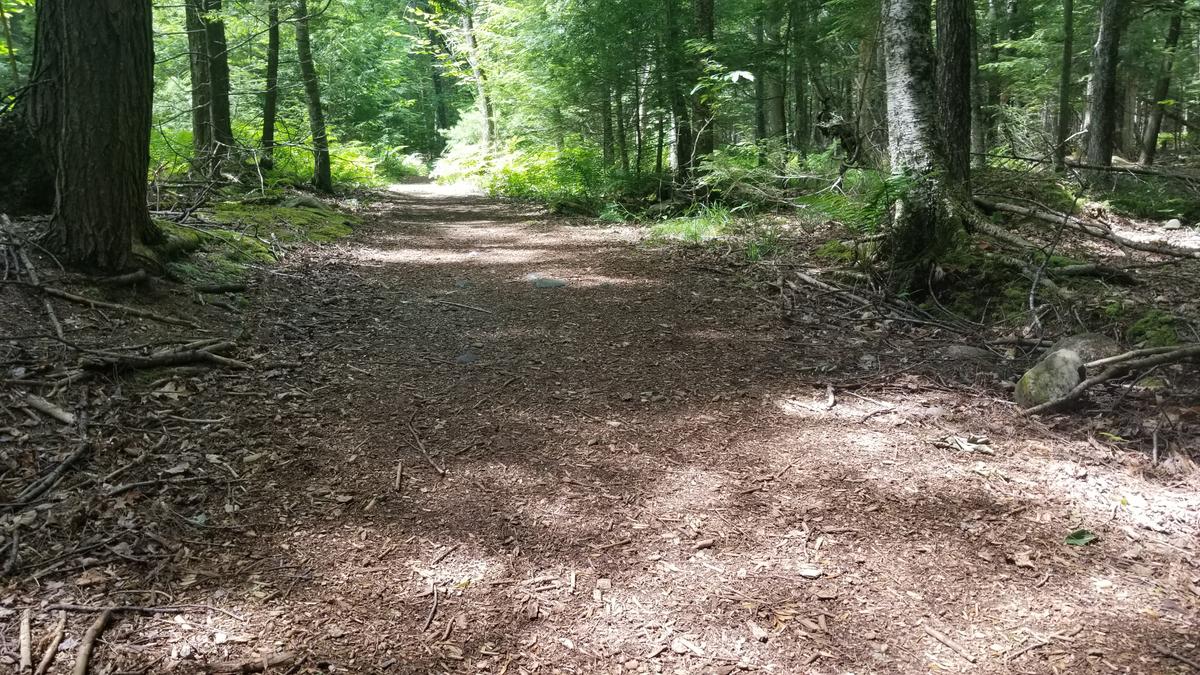 Wood chip surface of the trails.
I do need to caution you that the trail is uphill for most of the loop that I did. I started on the West Trail. There is a boardwalk just a few feet from the start of the trail. It was a bit odd as the boards are running vertically instead of horizontally which makes it a hazard for wheelchairs. Our front wheels can got caught between the boards. I made it across fine.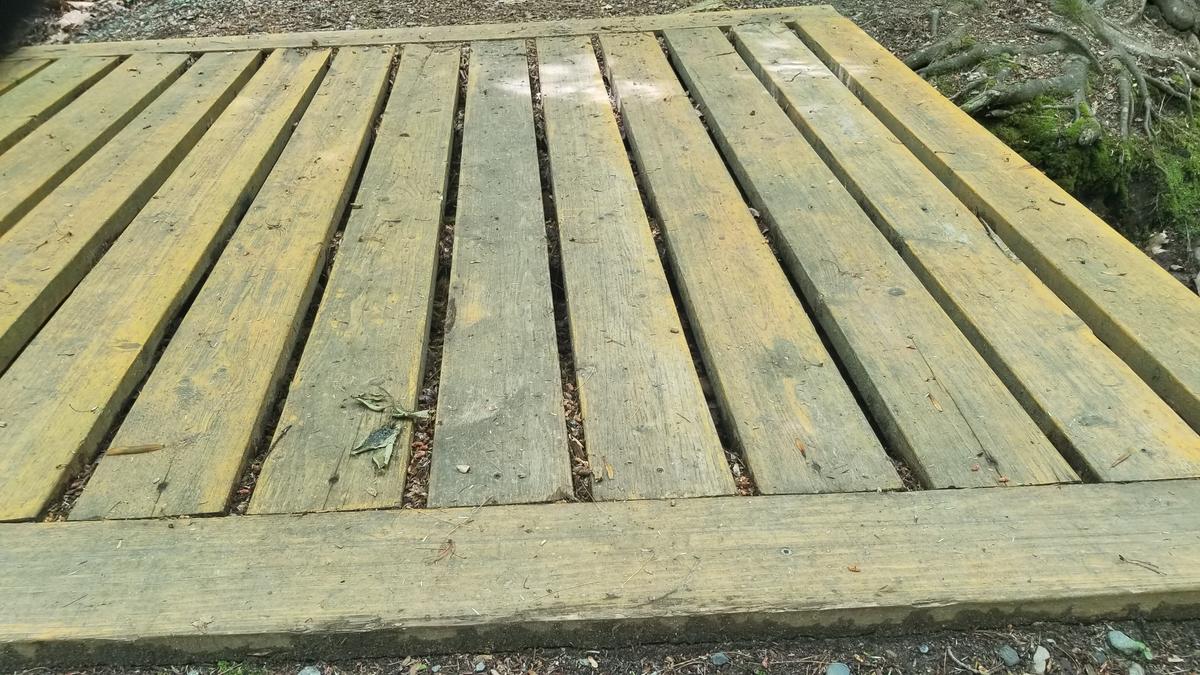 Bridge with length-wise boards, a hazard for wheelchair users.
The trail goes uphill from there with very few flat spots. I found it a challenge. My shoulders felt it. Eventually, I came to an intersection between going into Village Woods or taking a right onto Old County Rd. I made the right because the West Trail appeared to go steeply uphill. Old County Rd. also looked to be more heavily used which led me to believe it might be the easier path.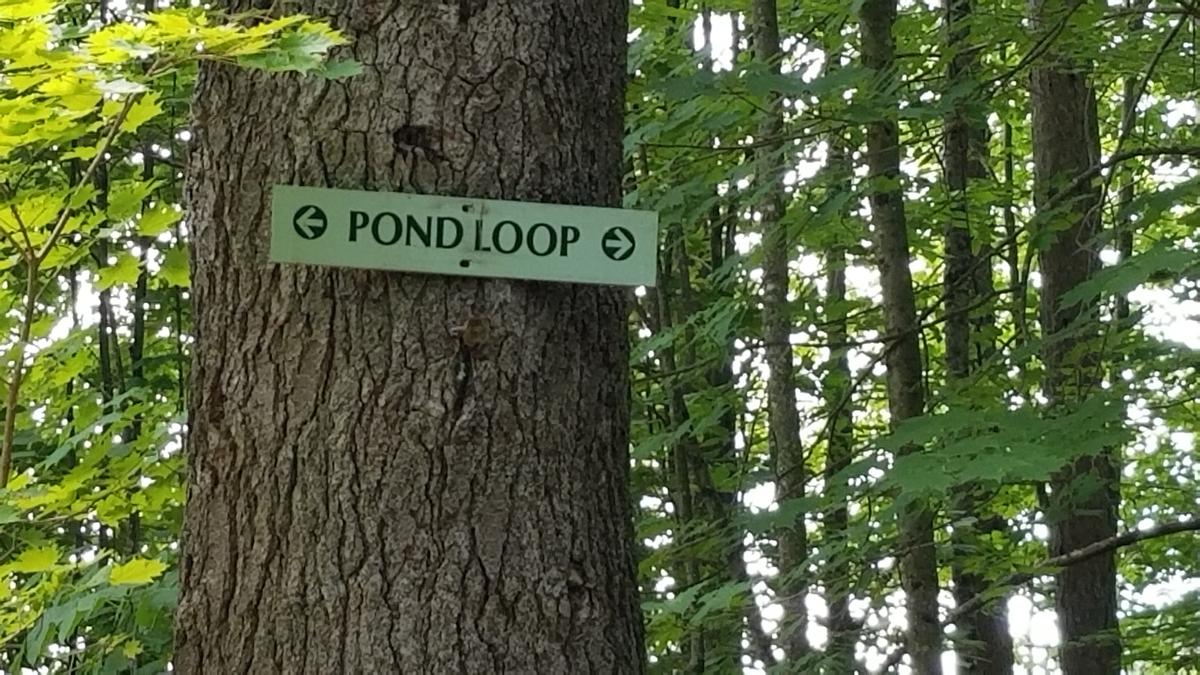 One of many trail signs on the property.
On a side note, I love the signage at this property It made it easy to find my way. All the intersections were marked with trail signs and arrows.
Old County Rd started going downhill which was a relief after the uphill start. This trail is so wide it is almost like a road. It allows for many options around possible obstacles. There were roots in very few areas some were large but I was easily able to go around them.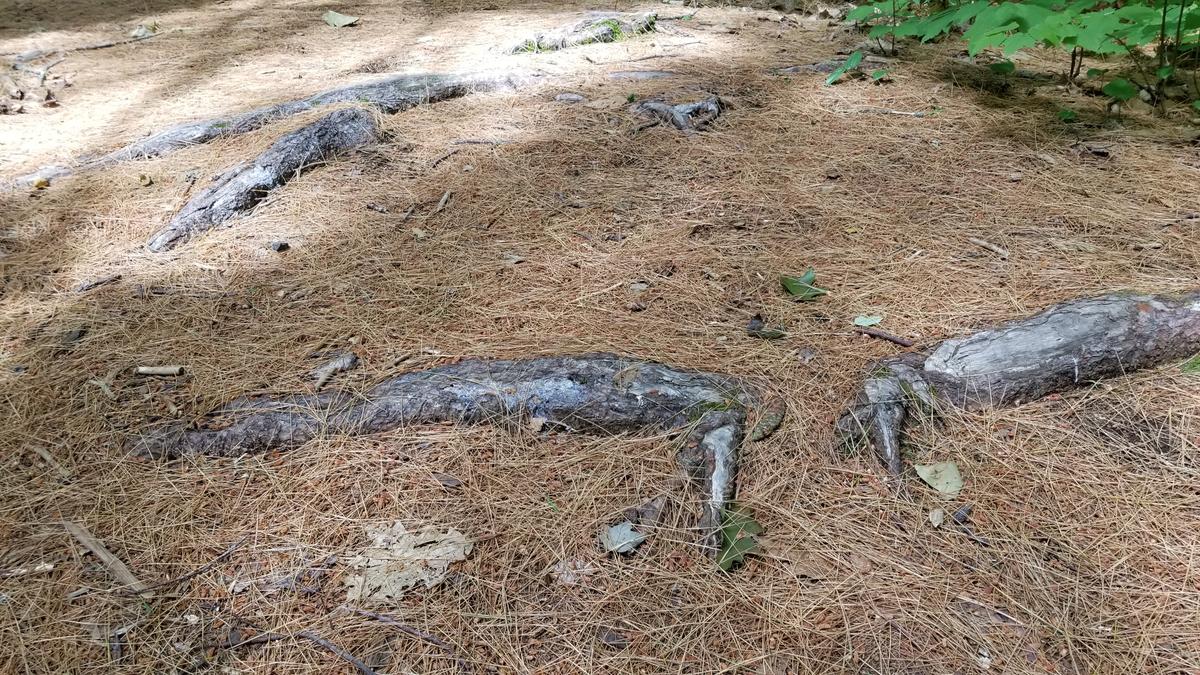 Roots on Old Country Rd.
I came to the end of Old County Rd where there is an option to leave the woods and follow the actual road back to the parking lot or turn right and follow the East Trail. I chose the East Trail again since it looked heavily used and was downhill.
I came to another boardwalk that had the boards in the correct direction - perpendicular to the direction of travel.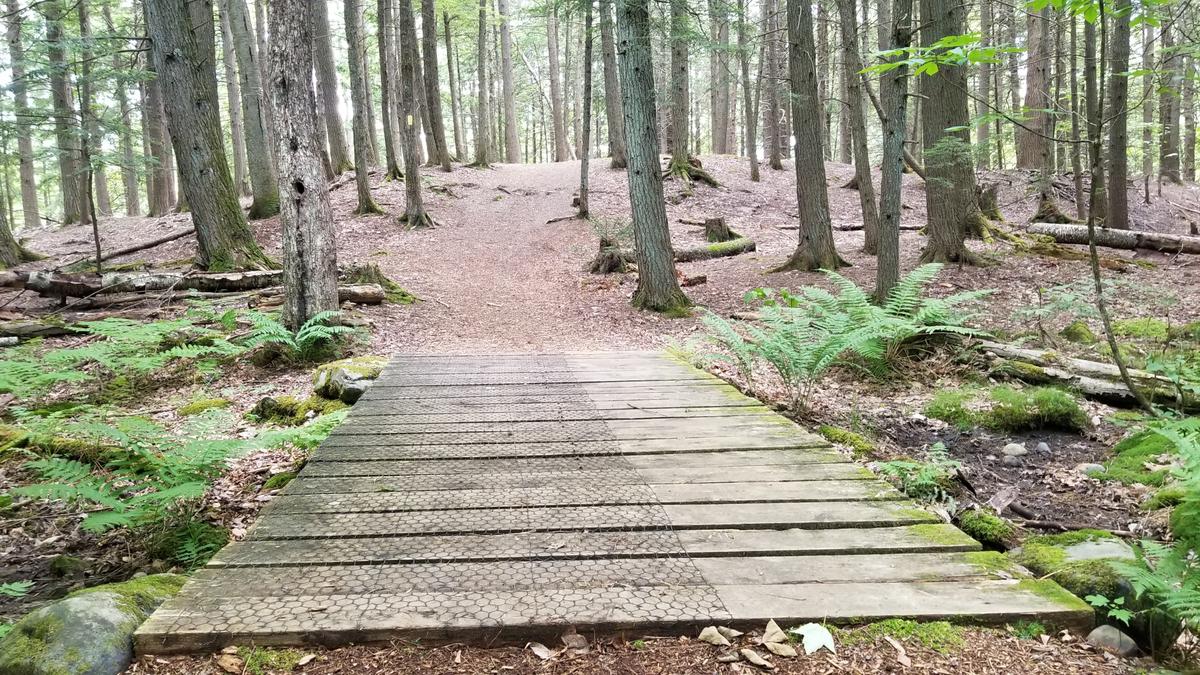 Boardwalk on the East Trail (note the steep hill on the other side).
Then came the biggest obstacle of the day. A huge steep hill that I couldn't possibly push myself up in my wheelchair. I sat at the bottom contemplating my options. First I thought I could switch back it but the angle was too steep and I would likely fall over sideways. Then I thought if I could just get to the one flat spot part way up on the side, I could crawl from there. This was also not an option because of the steep terrain. I briefly thought about turning around but I knew I had to be close to the parking lot. I eventually landed on the beast mode option and hopped out of my wheelchair and began crawling while dragging my chair with one arm and throwing my bag ahead of me with the other. I wish I had a video of this one because it was pretty epic -- haha. Alas, I only have a picture of the drag marks.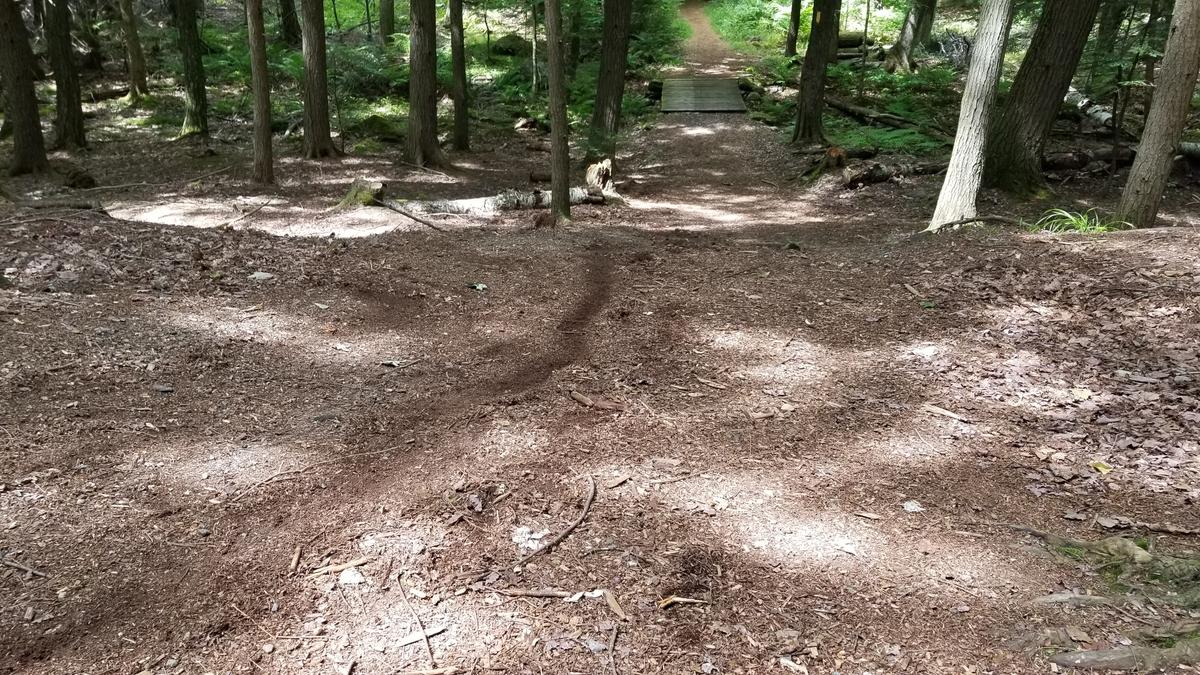 Evidence of Enock's adventure up the hill.
As I was making my way up this hill, a poodle showed up to stare at me. I wonder what that dog was thinking. The owner came along next and asked if I was good. I of course said yes and they both went on their way.
Thankfully I was right about being close to the parking lot. Once I topped the hill and made it back into my chair, it was all smooth sailing downhill.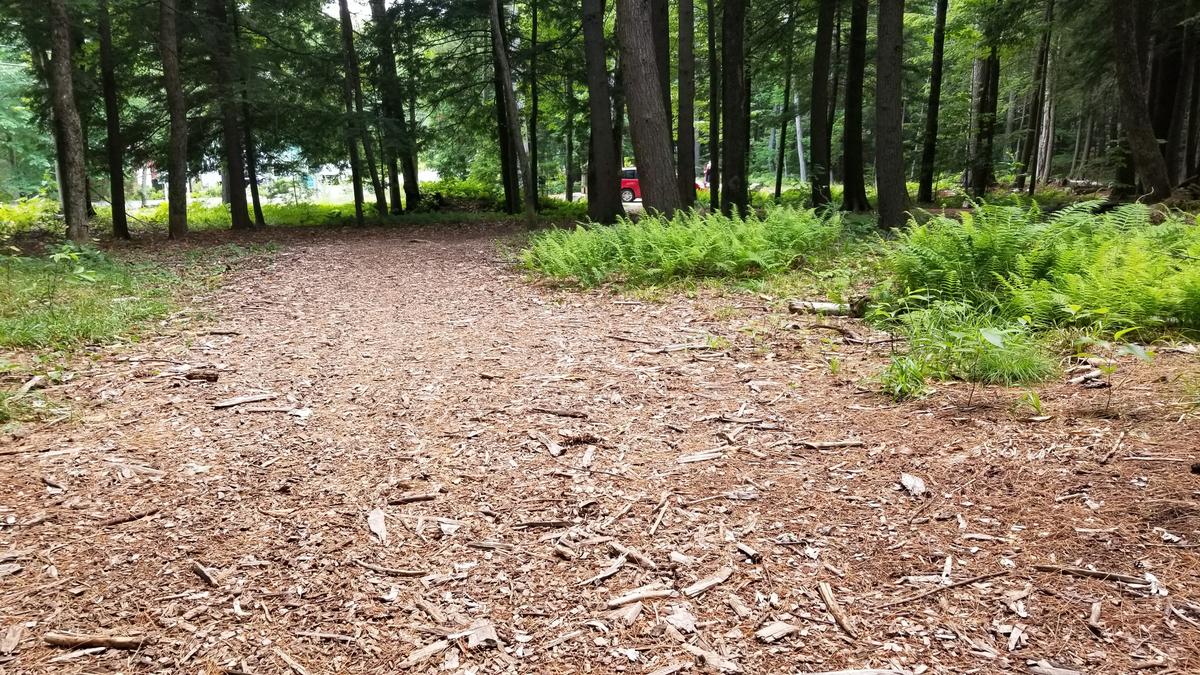 Trail surface on the way back to the parking lot.
I have to say for not being built to specifically be accessible, this forest is amazing. Yes, there is that one major hill, and the terrain is a lot uphill but with some help, a wheelchair user could navigate many of the trails. I am very impressed with the way they have resurfaced the trails. I am going to rate this one Wheelie Moderate if you have help for that hill otherwise it is Wheelie Strenuous.
Prescott Field Accessible Trail
After that awesome workout at Powder House Hill, I decided to skip Bonney Woods and go straight for something easy. I made my way to the new Prescott Field Accessible Trail.
I parked by Big Sky Grill in the accessible parking of a paved lot. This is where I came upon the fanciest trailhead I have ever seen.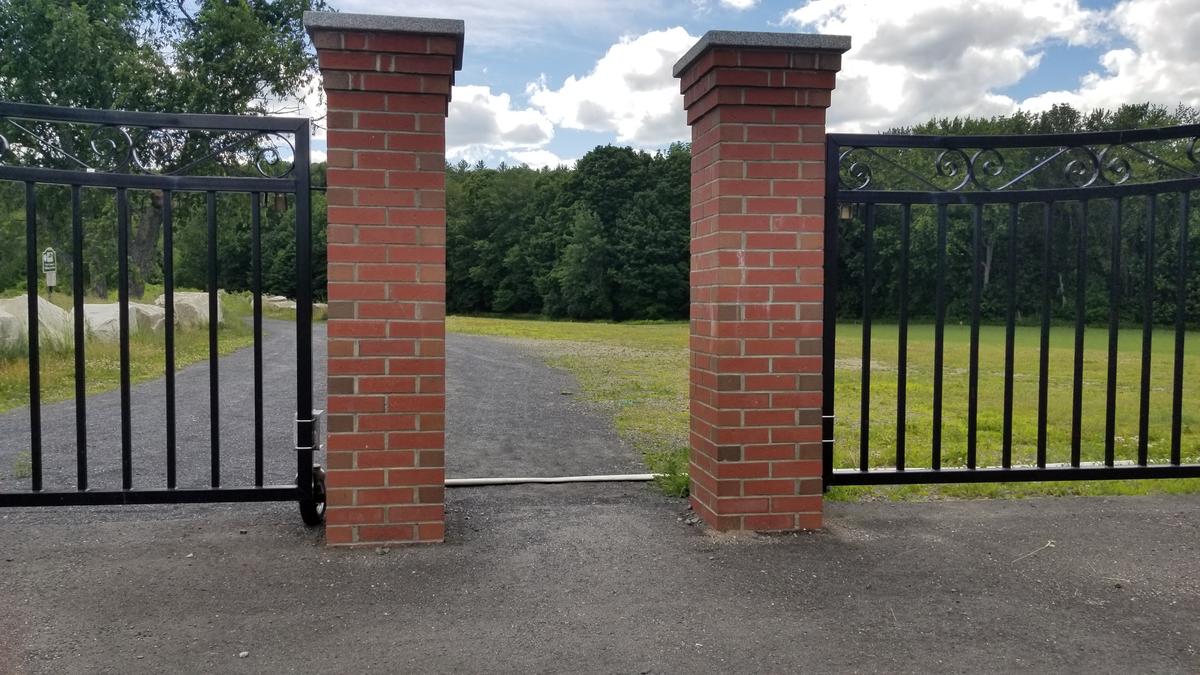 Entrance to the Prescott Field Accessible Trail.
The gate had plenty of room to pass through onto one of the best-surfaced trails I have ever experienced. The surface has very fine gravel on top with a hard-pack underneath. It was incredibly easy to push over.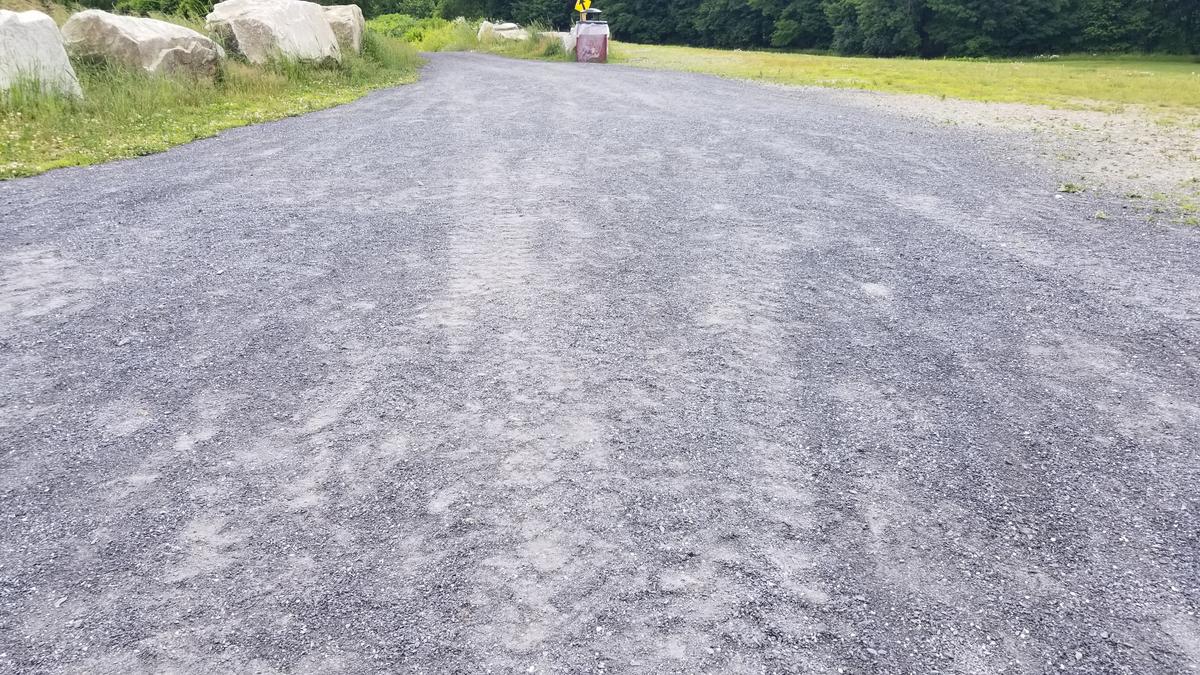 Surface of the Prescott Field trail.
The trail starts downhill and I wondered how hard it would be on the way back. After passing by the athletic fields the trail enters the woods along the river.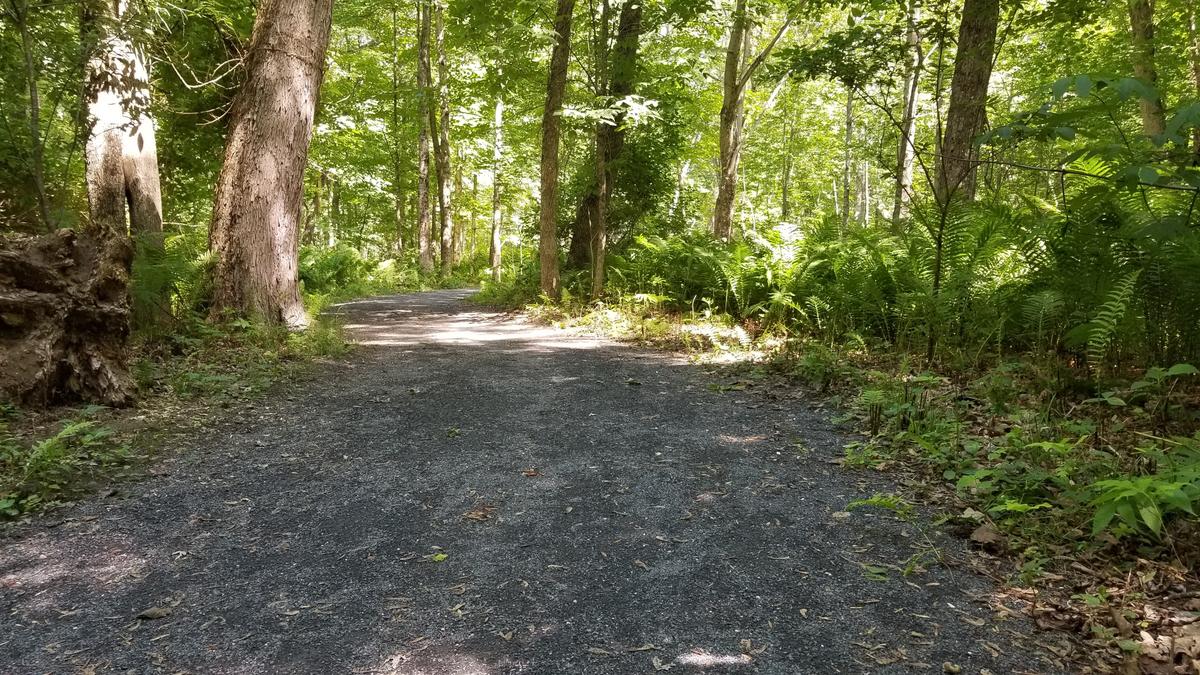 Trail through the woods.
There is one well-made bridge that is built at the grade level so there is very little transition onto and off of the boards.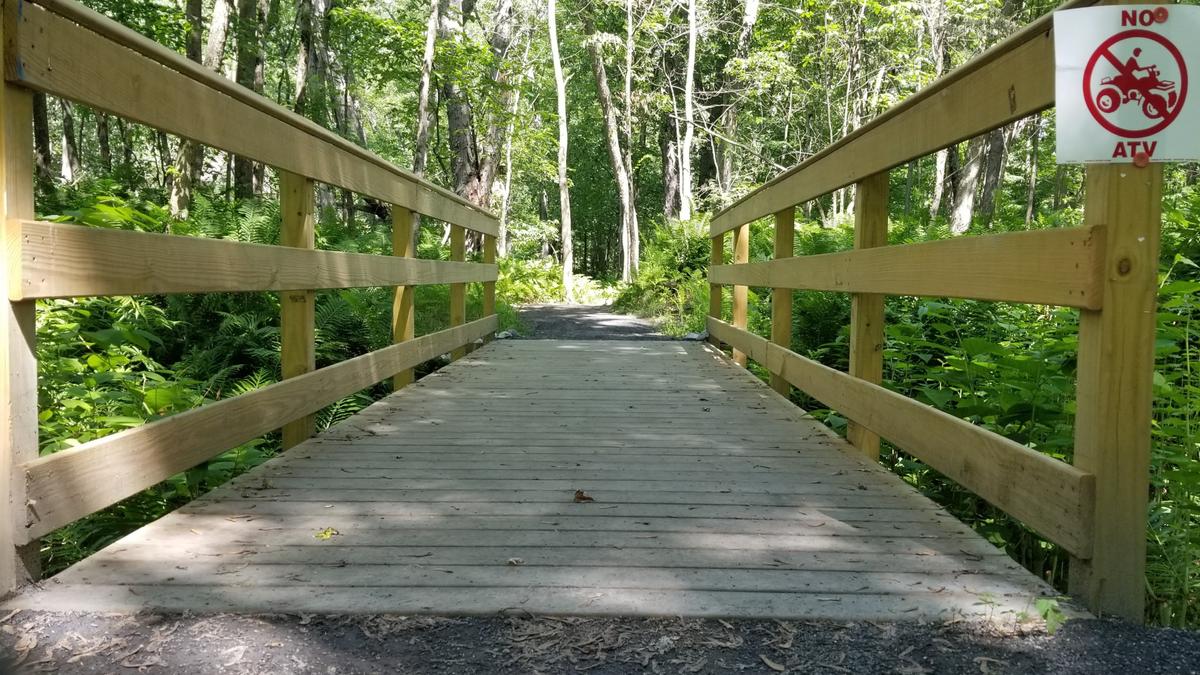 At-grade entrance and exit to the bridge.
There are a number of side trails that look that they were made by people just bushwhacking. They aren't useable in a wheelchair but still open up the view to the Sandy River.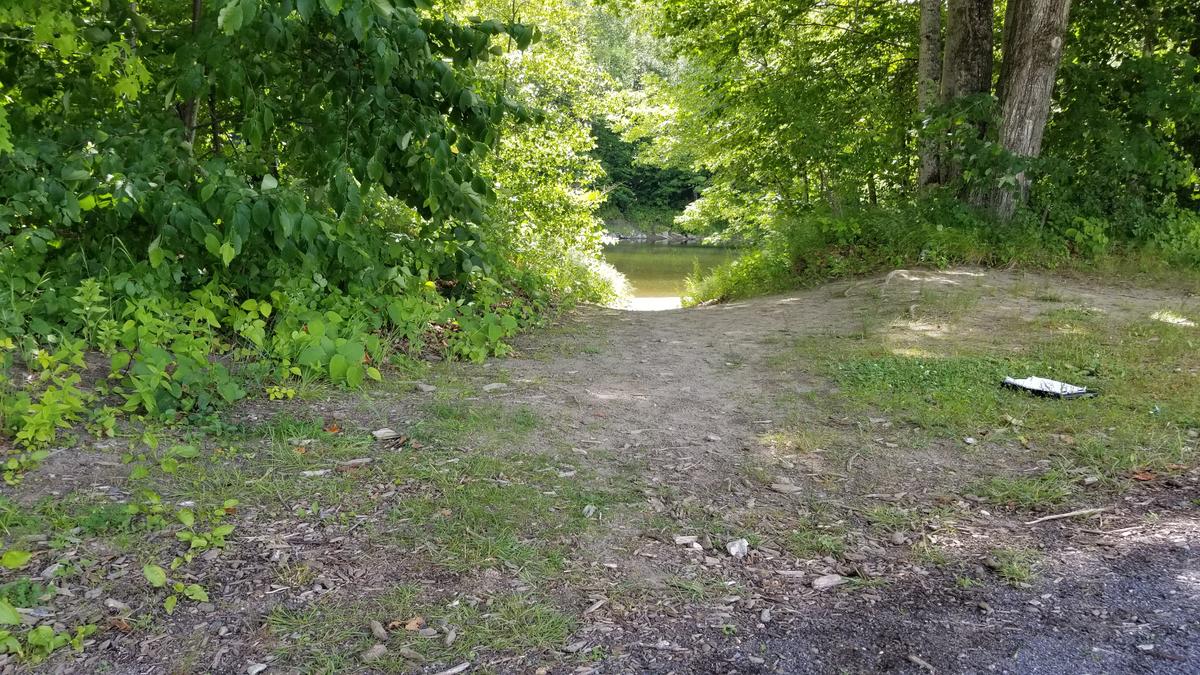 View of the river from the accessible trail.
Eventually, the trail culminates at another parking lot. I turned around and headed back to the first parking lot. The aforementioned hill was long enough that I had to stop and rest halfway up. The surface made it much more doable than it would have been if it had been large gravel. If you want to avoid the hill altogether you could park at the south end.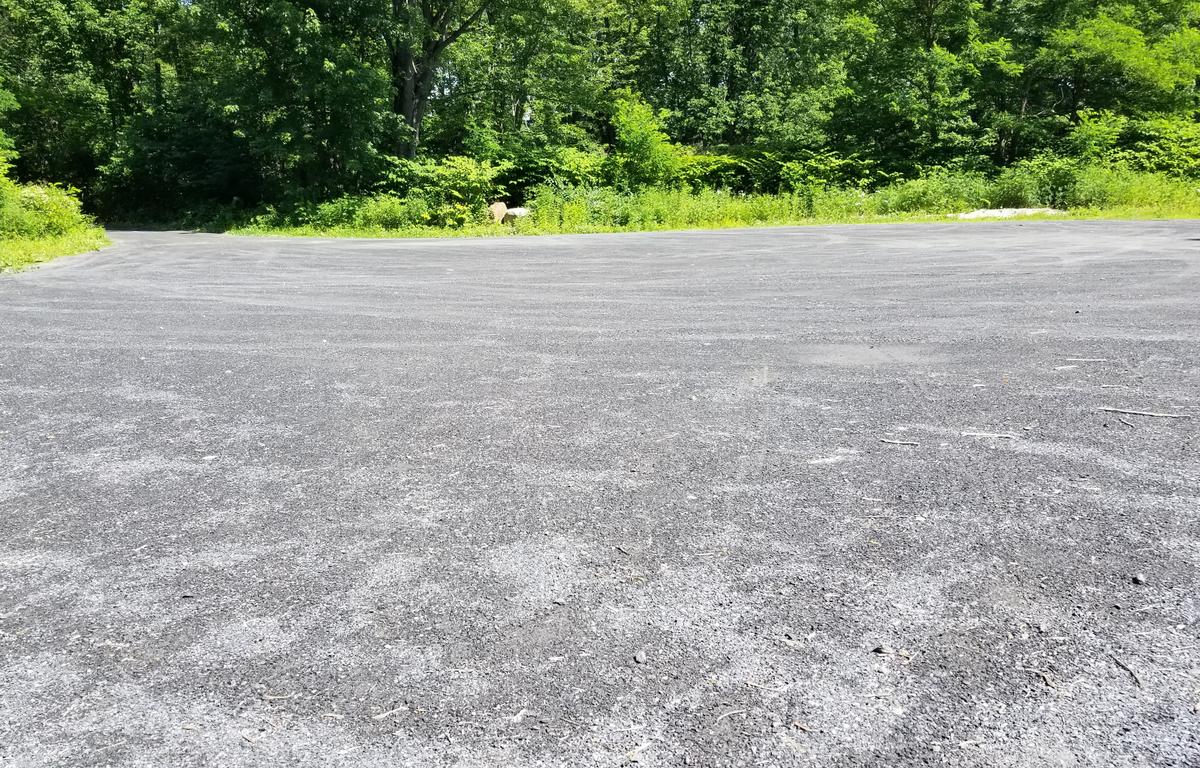 Parking lot at the south end of the trail.
This trail is the epitome of accessibility. The only minor flaw I found was the lack of resting benches. If anyone wants advice on how to build a perfect trail they should reach out to the High Peaks Alliance and UMaine Farmington. I was incredibly impressed -- A true gem in Farmington.
More THoughts
I have been thinking about this quite a lot lately as I read trail descriptions. I have noticed that the people submitting descriptions to MTF tend to just give an overview of the property with a difficulty rating or ratings. I think that is a great start but I think it needs to go more in-depth. We need a description and rating of each individual trail. That way we can all make informed decisions about where to hike. For instance at Powder Hill House it says easy to moderate but which are easy and which are moderate? Why are they easy or moderate? I think answering those questions would make everyone have a much more enjoyable experience in the oudoors.
This year I hope to get some group or one on one hikes together. I would love to interview other people with disabilities about their outdoor experiences. The more perspectives we can get the better the information will be and the more progress we can make.
If you have a different type of mobility issue or a different disability and you visit this trail or others, please comment on this post and give us your feedback. The more knowledge we gather and share, the more people we can get outside using the trails of Maine!