Description
The 15 miles of groomed cross-country ski trails at Aroostook State Park offer a variety of terrain and difficulty for classic skiing. Each trail is signed by color representing various skill levels (also indicated the paper map available at park headquarters). Blue marked trails are easy (novice) trails with flat or gently rolling terrain and are good for those new to the sport, or those who enjoy even paced gliding. Yellow marked trails represent moderate (intermediate) trails and have greater variation in contours. For these trails, some gradual descents and ascents involved are involved, and they are generally popular with most ability levels. Red marked trails are the most advanced trails with a wide range of uphill and down. Strenuous on uphill grades and fast paced gliding on downhill slopes are to be expected on these trails.
Novice Trail (1.0 mile, easy):
This trail starts at the south end of the parking lot, meanders through a cedar swamp, and connecting the Sheep, Cedar, and Maze Trails.
Beech Trail (0.2 miles, easy to moderate):
This trail is somewhere between a novice and intermediate. The short trail leads from the Novice Trail to the campground where Sheep and Quaggy Jo Mountain trails begin.
Maze Trail (1.0 mile, easy):
Trail starts from an intersection on the Novice Trail, passes by the warming hut, and winds through a tree plantation and forest management area on a neighboring farm.
Red Pine Trail (0.2 miles, easy to moderate):
Branching off the Maze Trail, this short trail winds through a managed red pine plantation. The trail ends in the farm field with a nice view of Quaggy Jo Mountain and the surrounding area.
Sheep Trail (1.5 miles, moderate):
Trail leaves the campground near site #21 winding through a hardwood forest and passing the edge of an old sheep farm. It returns to the park by way of the Novice Trail.
Cedar Trail (0.5 miles, moderate):
Connecting the Sheep, Maze, and Novice Trails, this trail winds through a cedar swamp, field, and a stand of new growth hardwoods.
Quaggy Jo Mountain Trail (4.0 miles, advanced):
This one-way trail leaves the campground at site #18 and follows the same route as the South Peak Trail for a short distance and then turns to circle Quaggy Jo Mountain. This trail offers the widest variety of terrain of any of our trails. The trail is traveled clockwise for one-way traffic only and returns to the campground near the Kitchen Shelter.
Lookout Trail (0.5 miles, advanced to strenuous):
This is the most demanding and technical trail in the park; it leaves from and returns to the south side of the Quaggy Jo Mountain Trail as an up-and-back trail. Traversing scenic upland hardwood and evergreen forests, it is not groomed with set track, just packed occasionally. A portion of this trail is shared with the snowshoe trail. It offers a great view of Aroostook County from the top of North Peak. Extreme caution should be used when skiing this trail.
Maple Trail (2.0 miles, advanced):
A loop off the south end of the Quaggy Jo Mountain Trail, the Maple Trail offers the challenge of rolling hills and turns.
Old Beacon Trail (0.5 miles, moderate to advanced):
This is a short trail that leads from the Quaggy Jo Mountain Trail across rolling terrain to the former site of an aviation beacon. It is an outstanding short ski which offers westerly views of the local area.
Other Information
Aroostook State Park is Maine's first and northern most State Park and offers visitors a unique opportunity to enjoy winter in the outdoors. The park offers other winter time activities which include snowshoeing, a sliding hill, ice skating (condition permitting on the lake), and winter camping. Two warming huts, away from the parking lot, allow users a chance to rest and meet new friends next to the fire. The are a wonderful place to cook hotdogs. The downstairs of the lodge can be rented for organized group activities. Updated trail condition reports and more information can be acquired by contacting the Trail Manager below.
Dogs, walkers, and snowshoes are not allowed on the ski trails at any time during the grooming skiing season.
Winter Day Use Fees are $1.50 per person 12-64, all others are free. Season passes can be purchased at the park.
Trail Manager
Visit Aroostook State Park online for more information and a detailed trail guide or contact: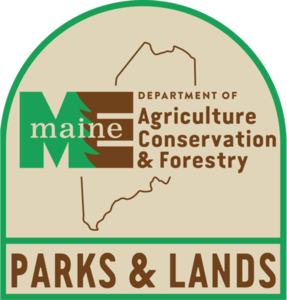 Maine Bureau of Parks and Lands, Aroostook State Park
87 State Park Road
Presque Isle, ME 04769
Phone: (207) 768-8341
scott.p.thompson@maine.gov