Description
Aroostook State Park's hiking trails are demanding and rewarding and require good physical health. The trails are well marked by safety blue markers, and all intersections are signed and have "you are here" maps which show your location to the trail system. The cross-country ski trails can also be used as a summer hiking trails, these will be marked in colors other than blue. Some of the park trails leave park property. The owners have given permission to the state park to use these trails but please be respectful and stay only on marked trails.
Hikers planning to hike all three of the primary hiking trails are highly recommended to begin by going up the South Peak Trail, located near site #18 in the campground, and then head over to the North Peak Trail in a clockwise direction. Steep grades and a high level of difficulty make it difficult come down the South Peak Trail. Hiking the whole 3 mile trail loop takes about 2.5 hours to do on average.
The three main hiking trails are described below:
South Peak Trail (0.8 mile, Moderate/Advanced):
This is the most technical trail in the system. Hikers should only go up the South Peak (Elevation 1,214') as its steep grade make a very challenging downhill. Exposed ledge faces and constant steep sections keep hikers working hard to get to the summit which is indicated by a communications tower. A short side trail leaving to the west of the tower leads to a tent platform with spectacular views west and north of the Quaggy Jo Mountain ridge line. From the tower the Ridge Trail continues to the North Peak Trail.
Ridge Trail (1 mile, Easy/Moderate):
This trail meanders along the ridge between the two peaks offering varied terrain and diverse vegetation. In the notch of the mountain, hikers will cross a spring which is one of the head waters of Echo Lake. A beautiful overlook offers beautiful views east over Echo Lake.
North Peak Trail (1 to 1.3 miles, Moderate/Advanced):
This trail ascends through upland hardwoods and conifers to the northern summit of Quaggy Jo (Elevation 1,107') and is a constant uphill climb. While very demanding, it is less technical than the South Peak Trail, and views from the summit will not disappoint. This trail is a perfect short hike for visitors limited on time: it takes 1.5 hours on average to hike and return to parking lot. Hikers climbing up the North Peak trail should return via that route and not attempt to descend via the South Peak trail.
Notch Trail (0.25 miles, Moderate):
This trail is filled with natural beauty and follows an intermittent brook that starts from the top of the mountain and flows through the gorge. It starts near the trailhead of the South Peak Trail and connects to the Ridge Trail, allowing hikers a safer and easier route on or off of the mountain.
QuaQuaJo Nature Trail (0.5 miles, Easy):
This is a looping trail through mature forest with flowing springs and a wide variety of trees, plants, birds, and animals. It is accessed from the south end of the parking lot, or on the campground road.
View BPL's map and guide for Aroostook State Park.
Other Information
The trails are a steep grade with surfaces of loose rocks and gravel, and appropriate footwear should be worn (no sandals or flip flops). Visitors should take their time while hiking up the trail to prevent slipping, which could cause injuries. There is drinking water available in the campground, but hikers should have plenty of water and also might consider bringing snacks, fly dope, binoculars, camera, and a cellphone to call for help if needed. Dogs are welcomed but need to be on a leash at all times and owners are required to pick up after their pets.
Fees for day-use activities are $2.00 per adult between 12-64; $1.00 per children between 5-11; and all others are free. Season passes can be purchased at Park Headquarters.
Aroostook State Park was Maine's first state park and is a great destination point to exploring Northern Maine. The small campground offers 30 sites, showers, and a kitchen shelter. There are two group areas which can accommodate organized group camping. One of these is a remote Adirondack shelter. The day use area offers picnic areas, a beach (no lifeguards), canoe and paddle boat rentals, a boat launch, great spring and fall brook trout fishing, birding, and limited bike riding. In the winter, groomed cross-country ski trails, snowshoeing, and winter camping are available.

Natural Heritage Hikes is a project of the Maine Natural Areas Program in partnership with Maine Trail Finder. View the "Aroostook State Park - Quaggy Joe - South Peak Trail, North-South Peak Ridge Trail, North Peak Trail" guide online here.
Trail Manager
For camping reservations please call 1-800-332-1501 (in state) or 207-624-9950 (out of state) or reserve online.
Visit Aroostook State Park online for more information and a detailed trail guide or contact: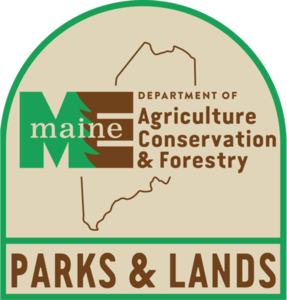 Maine Bureau of Parks and Lands, Aroostook State Park
87 State Park Road
Presque Isle, ME 04769
Phone: (207) 768-8341
scott.p.thompson@maine.gov