Description
The Eastern Promenade Trail is mostly flat, with a slight rise near the Water Treatment Plant and another near Tukey's Bridge, where it connects to the Back Cove Trail. Parallel paved and stone dust trails follow the water's edge.
Unpaved connector trails on either end of the Eastern Promenade Trail lead up the steep slope to the top of the park. The trail at the east end leads to Fort Allen Park. The trail's wide stairs are made from the City's reused granite curbing. This trail is extremely steep, but the views of Casco Bay from the top are spectacular. The connector trail at the other end of the park leads to the Loring Memorial. This trail is also quite steep but the view from the top offers beautiful sunsets over Back Cove. From here, one can also reach the Mid-Slope Trail—an alternate trail that parallels the Eastern Prom Trail, providing a loop back to East End Beach. The Mid-Slope trail is a rough, packed dirt trail. Each of these trails can accommodate bikes.
Benches and picnic tables are located along the Eastern Promenade Trail and at East End Beach. The beach offers swimming and a public boat launch, as well as public toilets and changing areas during the summer months. Dogs are allowed on the beach during off season. Kayaks and canoes can be stored on rental racks and launched from the beach or the boat ramp. On snowy winter mornings, motivated Portland residents who hit the trail early often snowshoe or cross-country ski on the trail before it is plowed.
Other Information
The Eastern Promenade Trail was a joint project of the City of Portland, Portland Trails, and the Maine Department of Transportation, and was made possible with assistance from The Trust For Public Land, The National Park Service Rivers and Trails Program, and with the cooperation of The Maine Narrow Gauge Railroad Museum and the Portland Water District.
The Fort Allen and Loring Memorial Trails were built through a partnership between Portland Trails and the Friends of the Eastern Promenade. The Friends of the Eastern Promenade is a non-profit community organization committed to preserving the Park's significant historic public landscape, protecting its environmental integrity, and enhancing its recreational use.
This trail is part of the East Coast Greenway, a trail that will one day link Calais, Maine to Key West, Florida.
Trail Manager
Visit Portland Trails online for more information or contact: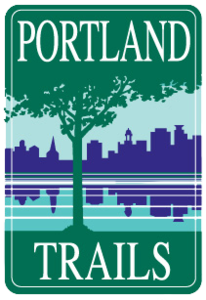 Portland Trails
305 Commercial Street
Portland, ME 04101
Phone: (207) 775-2411
info@trails.org