Description
In the late 1990s, the late Steve Emmons cut some trails into his woods, enjoyed exploring the area, and donated the land to KCT that soon became the site of the Trust Headquarters. The original path became Jeremy's Trail, named in memory of fifteen year old Jeremy Walker Georgitis. Today there are 3.3 miles of various trails and loops to explore.
The Roller Trail (1 mile) loops around the headquarters complex is named in honor of longtime volunteers Mark and Gail Roller, and is suited for a gentle stroll. The trail winds through meadows that in the summer are filled with wildflowers and along the Batson River, and features views of the river, beaver dams, and the Preserve's namesake historic site, the Emmons Cemetery. In winter this loop is excellent for cross-country skiing and snowshoeing.
A short loop (0.1 mile) leads to the Community Labyrinth. Constructed with stones donated by members of the community in honor of loved ones, the labyrinth provide a quiet space for reflective walking. (If you would like to contribute a stone in honor of someone, please visit KCT headquarters or visit KCT's website.)
The Learning Loop (0.7-mile lollipop loop from the Batson River Bridge) includes thirteen learning stations with informative signs that describe the landscape, flora, fauna, and history of the area. The trail was developed by the Trust In Our Children program in partnership with Kennebunk High School.
To the north are Jeremy's Trail, with an extension of the longer Jenne's Loop, which make up the Two J's Loop (0.8 miles, from the Batson River Trail). There are several overlooks, including Teal Hole Falls, the site of a historic mill.
The Batson River Trail (1.3 miles) connects the Emmons Preserve to the Tyler Brook Preserve to the south. The trail travels through woods and fields, dotted by old cemeteries, and featuring a breathtaking stretch along the Batson with views of the river, especially beautiful in the fall.
Read about Enock's experience using a wheelchair at this preserve at MTF Stories!
Other Information
KCT trails are not for commercial use. If you are interested in having an organized event on our trails, please contact the trust.
Due to the sensitive nature of rare flora and fauna and changing weather conditions, we do not allow motorized vehicles on our trails. People with disabilities should contact the Trust to learn more about accessing the trails.
Trail Manager
Visit the Kennebunkport Conservation Trust online for more information or contact: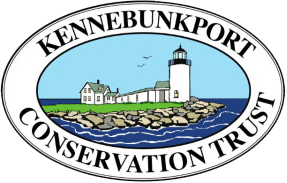 Kennebunkport Conservation Trust
57 Gravelly Brook Road
Kennebunkport, ME 04046
Phone: (207) 967-3465
info@kctoffice.com
View website