Description
The Sanders Hill Trail and Kennebec Highlands Trail form a loop that can be hiked in either direction; counterclockwise is described here.
The trail, marked with blue blazes, leaves from the north side of the parking area, winding westerly and briefly paralleling an old logging road. At 0.2 miles there are nice views from the south end of Watson Pond from atop a large boulder. The trail crosses the inflow for Watson Pond, briefly follows what was a logging road, then, after veering to the left, narrows and begins climbing moderately to the west. The trail eventually turns right (north) after crossing a short, wet area and follows the ridgeline through a rock field where there are views to the east of Watson Pond, Mount Phillip, and French Mountain. The trail cuts directly through and over some large granite slabs at 0.9 miles and continues on to a sparsely wooded summit area with views to the east and south through the trees at 1.1 miles.
The trail continues northwest over the Sanders Hill summit (854'), then descends crossing a rough gravel road (which also serves as a snowmobile trail). The trail loosely follows the course of the upper section of Beaver Brook before once again crossing the road/snowmobile trail next to a bridge over the brook. Continue to follow the trail southeastward along the brook before veering back northeastward towards the trailhead. The trail crosses two small brooks in a northeasterly direction, swings east through a young mixed growth forest and past a large rock (Snapper Rock), and finally turns north to reach an old logging road. Turn right (east) onto the logging road and continue back to the parking lot.
View BPL's map and guide for the Kennebec Highlands Public Land.
Other Information
The Kennebec Highlands is an area of Public Lands encompassing over 6,000 acres in northwest Kennebec County and southeastern Franklin County. This regionally significant large block of conservation land is the result of a long-term collaboration between the Belgrade Regional Conservation Alliance, now the 7 Lakes Alliance, and the Maine Division of Parks and Public Lands.
Users should note that the Kennebec Highland Trail, which is followed for a moderate distance, is a multi-use trail allowing snowmobile use in the winter.

Natural Heritage Hikes is a project of the Maine Natural Areas Program in partnership with Maine Trail Finder. View the "Kennebec Highlands - Sanders HIll Trail and Kennebec Highlands Trail" guide online here.

This trail passes through a property that was acquired in part with funds from the Land for Maine's Future program. For more information about the LMF program and the places it has helped to protect, please visit the LMF webpage.
Trail Manager
Visit 7 Lakes Alliance or Maine Bureau of Parks and Lands online for more information or contact: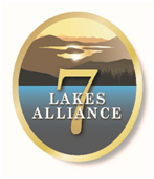 7 Lakes Alliance
PO Box 250
Belgrade Lakes, ME 04918
Phone: (207) 495-6039
info@7lakesalliance.org
View website