Description
Once a rail line from Portland to Augusta, the Kennebec River Rail Trail today is an easy 6.5 mile recreational trail. From Gardiner to Augusta, it provides exciting opportunities for all-season biking, running, walking and cross country skiing. It is a very scenic trail ducking along the river shore, through wooded areas, and charismatic towns.
It is a flat, asphalt trail with three access points in Farmingdale, and one in Hallowell. If you're looking for a quick walk, or long run, the trail is very family-friendly, and wheel chair accessible. Whether starting in Augusta, or Gardiner, Hallowell is a pleasant "half-way" marker. You can walk on through, or enjoy a bite to eat at one of their charming restaurants. The Friends of Kennebec River Rail Trail hold yearly marathons, half-marathons, and 5K races for locals and newcomers to participate in.
Other Information
The Friends of Kennebec River Rail Trail are proud of the volunteers working to keep the trail clean, and user-friendly. Please carry out all trash and animal waste.
Trail Manager
Visit Friends of Kennebec River Rail Trail online for more information and a printable map or contact: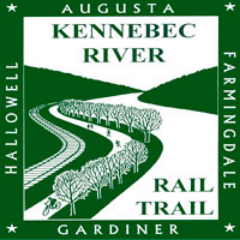 Friends of the Kennebec River Rail Trail
PO Box 2195
August, ME 04338
Phone: 207.582.3100
railtrailnews@krrt.org
View website