Description
Ranging from a half mile to 10 miles in length, the Mount Blue State Park Ski Trails offer a wide variety of groomed classic track for cross-county skiers of all abilities. Below each trail is described; colors correspond to on the ground markers and to colors on the brochure available at the Center Hill parking area trailhead.
Central Trail (0.5 miles, marked in yellow): Starting at park headquarters, this trail connects to all others, except the pine trail. It leaves the parking area through an apple orchard and follows an old power line for a short distance,
Birch Trail (2 miles, marked in blue): Leaving the Central Trail, the Birch Trail crosses the road into a wood yard, and then loops around a ridge through hardwood and evergreen forests.
Maple Trail (10 miles, marked in red): This extensive trail traverses a wide variety of terrain and passes through fields, old farmlands, and several types of forest. Plan ahead and allow plenty of time to complete this long loop, or use the suggested turnaround points for shorter trips.
Fox Trail (0.5 miles, marked in orange): This short loop off the Central Trail also connects with the Moose Trail. It traverses a section of old farmland now grown up into trees.
Moose Trail (1 mile, marked in green): Leaves and returns to the Central Trail. The Moose Trail tours a harvested hardwood forest and a red pine plantation.
Pine Trail (1 mile, marked in brown): Two short loops that leave from the Moose Trail. Travel in a clockwise direction to avoid steep grades.
View BPL's map & guide for Mount Blue State Park & Tumbledown Public Lands.
Other Information
Please sign the visitor register at the trailhead in the Center Hill parking area. We appreciate your comments and suggestions about the trails. While the hills in this area add to its scenic beauty, they also add to the challenge on all our trails. Please use care on uphill and downhill grades. Snowmobile trails wind through the park, and both skiers and snowmobilers use the roads and paths in the Webb Beach area of the park. Exercise caution when crossing or sharing trails. Use extra care where ski trails cross roads.
Pets are not allowed on the ski or snowshoe trails.

This trail passes through a property that was acquired in part with funds from the Land for Maine's Future program. For more information about the LMF program and the places it has helped to protect, please visit the LMF webpage.
Trail Manager
Visit Mount Blue State Park Winter Report online for more information and a detailed trail guide or contact: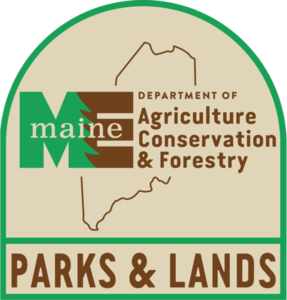 Maine Bureau of Parks and Lands, Mount Blue State Park
299 Center Hill Road
Weld, ME 04285
Phone: (207) 585-2261
bruce.farnham@maine.gov