Description
There are two snowshoe trails in Mount Blue State Park: Rock Lookout Trail and Center Hill Trail. Each is relatively easy, although the Rock Lookout Trail is slightly easier. Both trails lead to scenic overlooks that even the most advanced snowshoe enthusiast will enjoy.
Both trails start at the Center Hill Parking area next to the park headquarters. At the trailhead, there is an outhouse, information board with maps and descriptions of the winter trails, and an 'iron ranger' for depositing the entrance fee (check website or call for current rates). Both trails start at this point and follow the same route for about the first 1,000 feet passing near a deer wintering area in the park.
The Rock Overlook Trail is marked with green survey tape and flagging. It crosses wooded areas, a road, several ski trails, and two rock walls on its way to a scenic overlook with views to the north and west. This trail is about 1.5 miles in each direction (3 miles total).
The Center Hill Snowshoe Trail is marked with pink survey tape and flagging, and while slightly more difficult than the Rock Lookout Trail, is still accessible to the novice. After a little more than a mile, the trail splits and a side trail on the right leads east to the ledges at Center Hill. From the ledges there are excellent views to the south, west, and north.
Back at the fork, the trail going straight brings you to the Center Hill Picnic Area which also has great vistas north to Tumbledown and Blueberry Mountains. The picnic area, though accessible by car in the summer, is not plowed in the winter and is used as a snowmobile trail.
Those wishing for a shorter adventure and having access to two vehicles can follow the snowmobile trail downhill and to the left where it shortly meets up with Center Hill Road. At Center Hill Road, there is a small, plowed area where one can meet a car and drive back to the Center Hill Parking area. Those without an extra vehicle will need to backtrack to return to the trailhead and parking area.
View BPL's map & guide for Mount Blue State Park & Tumbledown Public Lands.
Trail Manager
Visit Maine Division of Parks and Public Lands online for more information and a detailed trail guide or contact: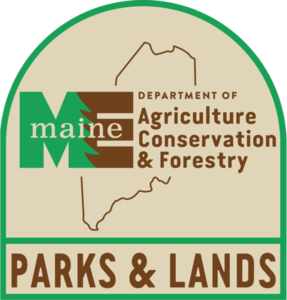 Maine Bureau of Parks and Lands, Mount Blue State Park
299 Center Hill Road
Weld, ME 04285
Phone: (207) 585-2261
bruce.farnham@maine.gov