Description
The Mount Phillip Trail is a loop trail and can be followed in either direction; counterclockwise is described here.
The trail, marked with blue blazes, leaves from the northeast corner of the parking lot heading east and in less than 0.1 miles splits. Bear right to follow the trail counterclockwise. The trail passes though a grove of tall mature pines then heads northwest up Mount Phillip's eastern slope, gently climbing through a mixed forest of hardwoods and evergreens. It continues up to a rocky ledge on Mount Phillip's eastern side at 0.6 miles and crosses the ledge westward to a rocky, partial summit clearing (755'). After enjoying views of Great Pond to the south and the Kennebec Highlands to the west, continue the loop trail by descending to the west, then turning in a southerly direction and dropping down into a stand of mature hemlock. Follow the trail back to the junction and the parking lot.
Other Information
In 2004 Belgrade Regional Conservation Alliance (now the 7 Lakes Alliance), in collaboration with Pine Island Camp, acquired 207 acres on Mount Phillip (755'), including the hiking trail and summit.
Trail Manager
Visit 7 Lakes Alliance online for more information or contact: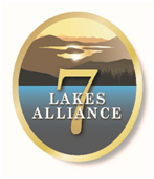 7 Lakes Alliance
PO Box 250
Belgrade Lakes, ME 04918
Phone: (207) 495-6039
info@7lakesalliance.org
View website