Description
The fire tower allows visitors to view Mt. Washington and the Camden Hills on a clear day. The trails are moderately difficult, including some elevation gain through a conifer-hardwood forest that includes many old sugar maples. The Mount Pisgah Conservation Area contains over 1,000 acres of permanently conserved land, including 94-acre Mount Pisgah Fire Tower property, owned by the Town of Winthrop.
The moderate Tower Trail (0.7 miles) passes by gnarly old sugar maples and climbs to the 60-foot tower, which is open to the public.
The Blueberry Trail (1.3 miles), on KLT-owned land, features stone walls, former fields now grown up to woodlands, and wintertime views to eastern hills. The trail crosses a small clearing which was used as a seasonal cattle pasture and has been cleared to encourage the growth of wild blueberries.
The Ledges Trail (1.4 miles) allows for a longer loop connecting the Tower Trail with the Blueberry Trail on a ridge line north of the summit. The trail winds through a dense forest of hemlock and mixed hardwoods descending to a point at 590 ft on the northern ridgeline of Mt. Pisgah. The trail then heads south and crosses a small stream with impressive ledges to the west of the trail.
Other Information
Snowmobiles permitted only on clearly-marked trails.
Trail Manager
For more information about the land or the trails, visit the Kennebec Land Trust online, or contact: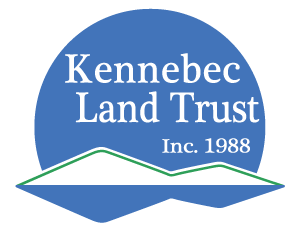 Kennebec Land Trust
PO Box 261
Winthrop, ME 04364
Phone: (207) 377-2848
info@tklt.org
View website