Description
The Old River Road Winter Trail begins from a small parking area just off the Grand Lake Road. The groomed trail starts on a seasonal road that is closed during the winter. Follow this trail for 0.8 miles, past an info kiosk, to a junction where the loop begins. To do the loop in a clockwise direction, turn left at this junction. The trail gradually descends through hardwood forest, then makes a sharp turn and begins running alongside the East Branch Penobscot River. The trail follows the river for about 1.8 miles and then turns back up, making a very gradual ascent back up to the seasonally closed road. Turn right here (the trail to the left goes towards Haskell Rock Pitch) and you will eventually find yourself back at the start of the loop. From here you can decide to do the loop again, or head back to the trailhead by the same route you came in on.
Other Information
To enjoy this trail in the warmer months; please visit The Old River Road Trail posting.
Pets must be leashed at all times, and are not allowed in or near the huts.
Permits are required for overnight parking and stays at huts. Reservations are made through the National Park Service.
Fires are permitted only in designated sites and require a permit from the Maine Forest Service (Ashland Office, 207-435-7963).
Trail Manager
Visit Katahdin Woods and Waters online for more information and a printable map, or contact: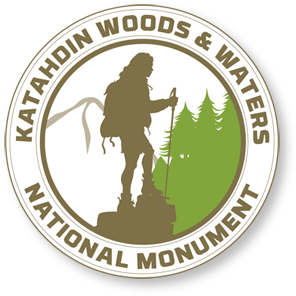 Katahdin Woods and Waters National Monument
PO Box 446
Patten, Maine 04765
Phone: (207) 456-6001
View website