Description
The first 30-mile section of the IAT follows a series of logging roads and foot paths that parallels the East Branch of the Penobscot River through the Katahdin Woods and Waters National Monument. The trail passes by many natural and historic attractions including glacial erratics, the Katahdin Esker, historic backcountry camps, and nationally registered Deasey Mountain Firetower. The trail affords multiple scenic views of both Katahdin and the East Branch. Several lean-tos and campsites are available for overnight use.
Due to its extremely remote character, required advanced planning, and sometimes impassible stream fords, this section of the IAT should only be attempted by experienced and advanced hikers and in conjunction with the guide provided on the IAT Maine Chapter's website that indicates additional required information for anyone wishing to complete the trail.
Other Information
An approximately two-mile section of trail north of Little Spring Brook Fish Hatchery has not been officially designated. Following an established snowmobile-ATV route (north or south) until you see blazes and signs that mark the established IAT route. Stream crossings on the southern end may be impassible during times of high water. In this case a nearly 10-mile detour is required to the south.
This section of the IAT passes through the Katahdin Woods and Waters National Monument. Find out about other KWWA trails on Maine Trail Finder.
Trail Manager
Visit the Maine Chapter of the International Appalachian Trail online for more information and printable maps or contact: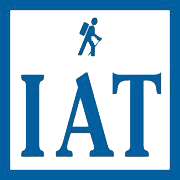 International Appalachian Trail, Maine Chapter
PO Box 916
Gardiner, ME 04345
info@internationalatmaine.org
View website