Description
The East Branch of the Penobscot River is a wonderful, scenic, and historic waterway, but one to be treated with respect and caution. It can be dangerous at high water. Because of the whitewater skills required, it is not an advisable trip for beginners.
Camping along the East Branch is first-come, first-served. There are no fees associated with using the sites along the river. The land along both sides of the river is privately owned. Our ability to continue to use and enjoy the East Branch portage trails and campsites depends on each of us respecting the generosity of the landowners along the river. Please adhere to Leave No Trace principles -- only two of the tent sites (Upper East Branch and Haskell Deadwater) and the Grand Pitch Lean-to have privies.
Campfire permits are required, free, and available from the Maine Forest Service.
Other Information
A waterproof, full-color map of the East Branch of the Penobscot River is available from The University of Maine Press. Portages, rapids, campsites, and other information important to canoeists are included, along with a historical overview of the region.
Trail Manager
Visit Thoreau-Wabanaki Trail online for more information or contact: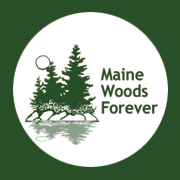 Maine Woods Forever
P.O. Box 512
Oakland, ME 04963
Phone: (207) 465-2074
skoghem@roadrunner.com
View website