Description
The Grand Pitch Trail follows part of the International Appalachian Trail along the East Branch Penobscot River in the Katahdin Woods and Waters National Monument. The trail is a great summer hike for anyone looking to catch fish, spot a moose, or just experience a piece of the Maine woods. The whole trail can be completed in a long day, or hikers can choose to stay overnight at a tent site, lean-to, or Haskell Hut.
Departing from the trailhead, the trail follows a double-track road toward the river for about a mile, passing an old rock pit. From here, a half-mile side trail takes hikers to Stair Falls and an isolated campsite. The main trail continues for a couple hundred yards to another short side trail to Haskell Hut. At this point the trail narrows, continuing on to the river's edge at Haskell Rock Pitch, 2 miles from the trailhead. There is a riverside campsite just upriver from the pitch.
From Haskell Rock Pitch, the trail follows along the river closely for another mile to Pond Pitch, which also has a riverside campsite, just downriver. Two side trails (not shown on map) head uphill from here towards Little Messer Pond and the Lookout Trail. The trail can be looped by returning to the trailhead via the Lookout Trail. Another half mile past Pond Pitch (3.5 miles from the trailhead) the trail reaches the Grand Pitch Lean-to. From here a short path accesses Grand Pitch, the highest and most dramatic falls on this section of the East Branch.
Other Information
Currently, there are two camping huts along this trail that are community- and user-maintained: Haskell Hut (5.5 miles from the trailhead) and Big Spring Brook Hut (9.8 miles from the trailhead).There is no charge for staying at the hut, which has basic accommodations to comfortably sleep 8, with wood-burning stoves, outdoor pit toilets, and gas stove tops. However, permits are required for stays at the huts as well as for overnight parking. Reservations are made through the National Park Service.
Pets are not allowed in or near the huts, and must be leashed in all other areas of the National Monument.
The Maine Section of the IAT also maintains lean-tos for thru-hikers and others to share on a first-come, first-served basis.
Fires are permitted only in designated sites and require a permit from the Maine Forest Service (Ashland Office, 207-435-7963).
Trail Manager
Visit Katahdin Woods and Waters online for more information and a printable map, or contact: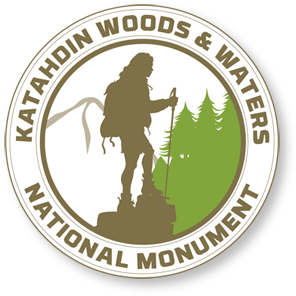 Katahdin Woods and Waters National Monument
PO Box 446
Patten, Maine 04765
Phone: (207) 456-6001
View website