Description
The Orin Falls Trail is a great hike for families and fishing enthusiasts looking to access Wassataquoik Stream. Most of the trail is former logging road, so it is wide and avoids steep slopes. A portion of the International Appalachian Trail also follows the same path for a short distance. The trail begins by following a ridge above Wassataquoik Stream before dropping to cross a bridge over Katahdin Brook (the outflow from Katahdin Lake inside Baxter State Park). Just beyond the bridge there is a large campsite as well as a lean-to shelter. Both have picnic tables and fire rings. This easily accessible campsite, less than a mile from the trailhead, is a perfect base camp for first-time backcountry campers exploring the area.
Continue going straight at the next junction where the International Appalachian Trail heads left towards Barnard Mountain. The next mile passes through a mature hardwood forest. The final few hundred feet of trail approaching the falls are on a recently built, narrow trail.
Orin Falls is a long series of cascades over boulders. Wassataquoik Stream drains a large section of Baxter State Park, and is the route Henry David Thoreau used to hike up Mt. Katahdin from the East Branch Penobscot River in the 1840s. At that time, there were few trails and no roads within the entire area.
Returning to the trailhead, hikers can choose to take the same path to return or climb nearby Barnard Mountain, just off the International Appalachian Trail.
Other Information
The Katahdin Loop Road is accessible from late May until late October. At times, this road may be under construction; please check the National Monument website for any construction alerts.
Pets must be leashed at all times, and are not allowed in or near the huts.
Permits are required for overnight parking and stays at huts. Reservations are made through the National Park Service.
Fires are permitted only in designated sites and require a permit from the Maine Forest Service (Ashland Office, 207-435-7963).
Trail Manager
Visit Katahdin Woods and Waters online for more information and a printable map, or contact: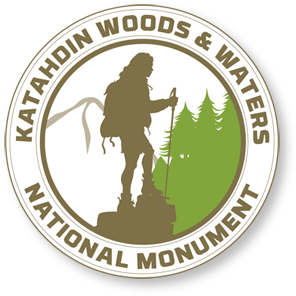 Katahdin Woods and Waters National Monument
PO Box 446
Patten, Maine 04765
Phone: (207) 456-6001
View website