Description
Trailhead is located just off the Katahdin Loop Road before mile marker 12, with plenty of parking. The trail begins on a brief section of the IAT (International Appalachian Trail), for about 1.5 miles up a gravel logging road frequented by moose, bear, mountain bikers, and hikers. Within the first few minutes of the hike you will cross Katahdin Brook and pass the first lean‐to and outhouse on the northbound section of the IAT. Continuing up the long hill, follow the IAT to the right. The trail head sign will be on your right. This portion of the trail can be biked as well as hiked.
From here you leave the logging road and hike through thick young hardwoods, large boulders, switchbacks, and stone steps built in 2014 by the Maine Conservation Corps. Young hikers will enjoy passing through a large boulder about a third of the way up. Bring your lunch and enjoy the views from the top. Watch for a multitude of moose signs near the summit where they hang out in the cool breezes of summer.
Other Information
Pets must be leashed at all times, and are not allowed in or near the huts.
Permits are required for overnight parking and stays at huts. Reservations are made through the National Park Service.
Fires are permitted only in designated sites and require a permit from the Maine Forest Service (Ashland Office, 207-435-7963).
The Katahdin Loop Road is accessible from late May until late October. At times, this road may be under construction; please check the National Monument website for any construction alerts.
Trail Manager
Visit Katahdin Woods and Waters online for more information and a printable map, or contact: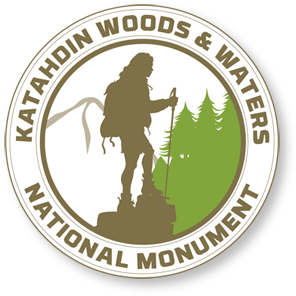 Katahdin Woods and Waters National Monument
PO Box 446
Patten, Maine 04765
Phone: (207) 456-6001
View website