Description
The blue-blazed Philbrick Trail begins near the perimeter of Skowhegan's water treatment plant, just across the road from the Debe Park River Walk trailhead. After following the fenceline of the treatment plant for approximately one-hundred yards, the trail breaks into the woods and over a small bridge into a hemlock forest. The trail splits once inside the woods and winds through the woods in a network of interconnected loops. These trails pass along the banks of the Kennebec and around and through several ravines that slope down toward the river. At low water, large stretches of the riverbanks are lined with sandy beaches and views of calm waters after they exit from the sharp gorge in Skowhegan's center.
Read about MTF Accessibility Ambassador Enock Glidden's visit to the trail using his wheelchair at MTF Stories.
Other Information
This trail is managed through a partnership between the Town of Skowhegan and the Somerset Woods Trustees, who acquired the property for permanent conservation in 1941.
Please park on the side of the road out of the way of vehicles coming in and out of the Water Pollution Control Facility at the end of North Joyce Street. Where the trail passes close to houses, please respect the rights of property owners.
Trail Manager
Visit the Town of Skowhegan and Somerset Woods Trustees online for more information or contact: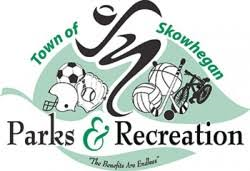 Skowhegan Parks and Recreation Department
225 Water Street
Skowhegan ME, 04976
Phone: (207) 474-6901
skowrec@skowhegan.org
View website
Somerset Woods Trustees
PO Box 833
Skowhegan, ME 04976
somersetwoodstrustees@gmail.com
View website