Description
The Sebago Lake State Park campground, located separately from the day area, offers over 6 miles of trails providing solitude from the bustling activity of the busiest state park campground. The trailheads are located throughout the campground. From May - October, these campground trails on the west side of the Songo River are are only open to registered campers.
The Songo Wilderness Trail, measuring 2 miles offers the campground's longest hike. Sheltered by pine and deciduous forest, the trail traverses a glacial plain and makes its way to the shore of the Songo River. The trail continues along the edge of Horseshoe Pond to an excellent picnicking spot with a view of a formally active beaver lodge. Campers looking for bird watching may view many species of birds such as bitterns, ducks, geese, egrets and herons along this route.
The Lookout Trail is a 0.8 mile moderate hike that begins approximately halfway along the park road. The trail rises abruptly and continues up hill to the rocky summit. At 499 feet, this is the highest elevation in the park. Although the lake view is mostly obscured by trees, the summit offers a steady breeze and an excellent picnic destination.
The Twin Brook Trail, a 0.7 mile trail that meanders through a mixed growth forest, crossing two small brooks. Enjoy the many spring wildflowers or magnificent fall foliage along this family friendly trail.
The Nature Trail, a little over half a mile long, offers visitors some of the history of the flora and fauna of the area; along with some history of the Sebago region. During the summer season, an interpretive ranger offers guided walks along the trails in the campground discussing the various ecosystems and history of the lake region area.
At just under 1 mile long, the Beaver Lodge Trail rises and descends gently through deciduous forest, emerging at the banks of Horseshoe Bog. Great for wildlife enthusiasts, this trail winds past beaver lodges, and through areas frequented by deer and the occasional moose, where birds, amphibians and wetland plants abound.
Campers can also enjoy the nature center located in the campground. Visitors are welcome to view and touch the many exhibits that are in the building. In addition to guided nature hikes, the camper can also enjoy canoe trips along the Songo River and Sebago Lake. There also are many evening presentations at the park's amphitheater including movies on certain nights of the week as well as many featured speakers.
Other Information
Sebago Lake State Park Campground is the busiest state campground and is open from May through September. Reservations are highly recommended during the summer season. Amenities include bath houses, a dumping station, and RV hookups. Pets are not allowed in the campground.
Firewood can transport invasive insects and diseases. Do not transport firewood. Please buy it locally and help protect our forests!
Trail Manager
Visit Maine Bureau of Parks and Lands online for more information and a printable map or contact: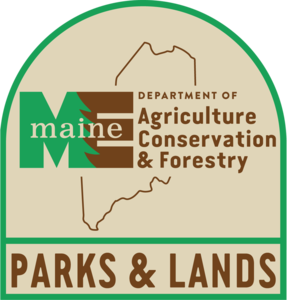 Maine Bureau of Parks and Lands, Sebago Lake State Park
11 Park Access Road
Casco, ME 04055
Phone: (207) 693-6231
matt.mcguire@maine.gov