Description
Sebago Lake State Park opened in 1938 and is one of the Maine's five original state parks. This beautifully forested lakeside park is located on the shores of Sebago Lake, Maine's deepest and second largest lake, providing year-round recreation for thousands of visitors annually. Near the foothills of the White Mountains, Sebago Lake State Park offers sandy beaches, wide-ranging woodlands, ponds, bogs, a river, and diverse habitat for a wide variety of plants and animals.
The day area offers over 5 miles of trails that traverse through a mixed growth forest along the shores of Sebago Lake and the Songo River. The trails are relatively flat, with much of the trail gravel packed, allowing for relatively easy hiking and mountain biking. These trails are groomed in the winter for cross-country skiing. Trailhead signs are posted along the main park entrance and the trails are home to several species of animals such as squirrel, white tailed deer, raccoon, and porcupine.
The 1.5 Songo River Trail follows the meandering shoreline of the Songo River in the day area. The river provides the passage of boating traffic from Long Lake and Brandy Pond to Sebago Lake. The water level on Long Lake is 4 feet higher than Sebago and boats must pass through the Songo Lock, a wooden gate operated by hand, to access Sebago Lake. While hiking this relatively flat trail, visitors often see waterfowl such as ducks, loons, geese, and bald eagles searching for food along the river.
The 3-mile Woodlands Trail traverses through the hardwood forest of the park and away from the hustle and bustle of the busy beach area. It provides hikers an opportunity of see a part of the park that is often missed by most users. While hiking this trail, visitors can hear the many songbirds calling above in the forest canopy and may see many of the mammals that inhabit the park.
The park also has a public boat launch for those who seek the lake's famous landlocked salmon or trophy-sized togue.
Visit the Sebago Lake State Park page on BPL's website.
Other Information
Sebago Lake also offers concession, boat ramp, horseshoes, ball field and playground. In addition, there is a large lake side picnic area with several group shelters and nearby flush toilets. The day use beach has lifeguards during the summer season. Wheelchair accessible tables are available. Groups are urged to call well ahead and rent one of the six group picnic shelters during the busy summer season. Visitors are asked to abide by the Division's carry-in/carry-out policy so that this popular park can be enjoyed by all.
Pets are welcome on a leash in the day area picnic sites and on the trails.
Trail Manager
Visit Maine Bureau of Parks and Lands online for more information and a printable map or contact: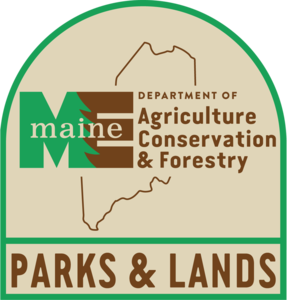 Maine Bureau of Parks and Lands, Sebago Lake State Park
11 Park Access Road
Casco, ME 04055
Phone: (207) 693-6231
matt.mcguire@maine.gov