Description
The Dead River Section is 875 wooded acres on the western flank of Great Pond Mountain, sweeping from the summit down to two miles of shoreline on the Dead River – the northern arm of Alamoosook Lake. Loons cry and osprey fish along this undeveloped stretch of deadwater, and beaver and otter haunt marshy Hellbottom Swamp. Access is via boat launch at Craig Brook National Fish Hatchery on Alamoosook Lake; or on foot from Don Fish Road, 0.5 miles past the Hatchery. There are 3 miles of gravel road and hiking paths on this section, and a connector to the Great Pond Mountain Trail.
Dead River Picnic Path (0.3 miles, moderate; footpath): Veering left from the Dead River Trail about 0.6 miles in from the gate, this path descends steeply through grassy meadows and young mixed woods to the east shore of Dead River. It ends at a peaceful wooded peninsula with a picnic table, and views up and down the Dead River.
Dead River Trail (2.5 miles, easy; gravel multi-use trail): This gravel multi-use trail traverses rolling terrain through young forests and meadows on the 875 acres between Great Pond Mountain and the Dead River, with occasional views to the west, especially as you rise higher up the mountain slope. Just before you come to the highest point on the Dead River Trail, a stone cairn and small trail signs point the way to a connector trail linking the Dead River Trail to the Stuart Gross Path and the trail to Great Pond Mountain summit. A hike to Great Pond Mountain Summit via Dead River Trail is 3.5 miles one-way.
Great Pond Mountain Trail - Via Stuart Gross Path (1.1 miles, moderate; footpath): Starting 0.9 miles up Don Fish Road from the hatchery, the trail heads uphill through beech woods 0.4 miles then veers right to approach the intersection with the Dead River Trail Connector and the old Jeep trail up Great Pond Mountain. Go straight across the intersection onto Mountain Trail, and ascend on this wide bedrock trail. You'll soon come out of the woods to hike along a broad ridge; look for blueberries and the white flowers of rare smooth sandwort. Enjoy views to north and south before the last steep ascent through the woods to the bald summit. On top, bare ledges offer fine views including the Penobscot Narrows Bridge and bay. A short walk to the right, peer down on Hothole Valley and Craig Pond. To the left, look for snow-capped Katahdin on a clear spring day. Parts of this trail cross private property; stay on trail.
Great Pond Mountain Trail- Via Dead River Trail and Connector (3.5 miles, moderate; multi-use gravel trail to footpath): See Dead River Trail description. Just before you come to the highest point on the Dead River Trail, a stone cairn and small signs point the way to a connector trail linking the Dead River Trail to the Stuart Gross Path and the Great Pond Mountain Trail to the summit.
Hay Ledges Path (0.8 miles; moderate footpath): This path branches off of the Stuart Gross Trail 0.3 miles from the parking lot, following an old road through spacious meadows and oaks to the Hay Ledges, a meadow with beautiful views of Alamoosook Lake and beyond. The path swings around an interesting rock formation, and continues down the west side of the ridge through shady hardwoods to intersect the Dead River Trail, about 0.5 miles from the gate. It takes under an hour to make a loop along the road back to the Stuart Gross Trail parking lot.
Other Information
Welcome uses of the Wildlands include hiking, jogging, bicycling, horseback riding, fishing, hunting, photography, nature study, paddling, picnicking, berry-picking, cross-country skiing, snowshoeing, and snowmobiling. No ATVs, dirt bikes or other off-road vehicles are allowed. Snowmobiles are welcome on designated trails. For a map of area trails, please visit the Family Snowmobile Club website. Horseback riders, please avoid footpaths (stay on multi-use trails) and remove droppings from parking lots. Horse trailer parking is available at South Gate and along Valley Road in the Hothole Valley parcel, or at Craig Brook National Fish Hatchery for the Dead River parcel. Riding groups, please contact Great Pond Mountain Conservation Trust (GPMCT) to notify us of a group ride. Bicyclists, please avoid footpaths and stay on multi-use trails.
Hunters, please register to hunt by calling GPMCT or emailing info@greatpondtrust.org. Read the Wildlands Hunting Policy on the Trust's website. Geocaching is allowed in the Wildlands. Visit Geocaching.com to locate geocaches on the property. If you want to place a cache, please contact us first about it. Camping and fires are by permission only in two designated campsites, for a small fee. Please go to the trust's website and download its Camping Policy and Registration form and Leave No Trace principles. Groups seeking special permission to have the gates opened or to use the property in a way other than what's listed above should consult our Wildlands Special Use Policy before contacting us. Please take only pictures and leave only footprints! Berry-picking is allowed, but please do not remove wildflowers or other plants, or animals. Remove all trash. Thanks for keeping the Wildlands wild!
Dogs are allowed on leash only; please protect the wildlife and your dog! Thanks for removing feces from trails, roads and parking lot. Please note: Dogs are not allowed on Hothole Brook Trail or Great Meadow Trail, to protect wildlife areas and corridors.

This trail passes through a property that was acquired in part with funds from the Land for Maine's Future program. For more information about the LMF program and the places it has helped to protect, please visit the LMF webpage.
Trail Manager
Visit Great Pond Mountain Conservation Trust online for more information and a printable map or contact: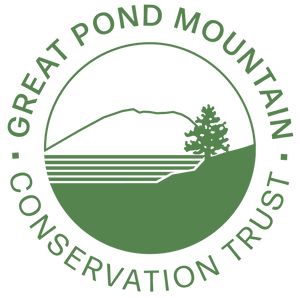 Great Pond Mountain Conservation Trust
PO Box 266
Orland, ME 04472
Phone: (207) 469-7190
info@greatpondtrust.org
View website