This is a guest post written by Enock Glidden, MTF Accessibility Ambassador, Public Speaker, Adaptive Athlete, and Adventurer. To learn more about Enock, please visit his website.
Hey, fellow hikers this time we are going to have a teaching moment. The lesson here is to always have a backup plan.
Falmouth Nature Preserve
I headed to Falmouth with a plan to check out Falmouth Nature Preserve. Judging from the description on Maine Trail Finder it seemed doable.
"The property includes trails that are excellent for hiking and cross-country skiing. Several narrow trails wind through a young, mixed forest of hemlock, beech, maple, and yellow and white birch. The two main trails lead to the unspoiled Mill Creek tidal estuary and salt marsh. There are connecting trails totaling 2 to 3 miles. Although some of the trails are flat, many have a varied elevation through the forested areas abutting the salt marsh."
It was the "although some of the trails are flat, many have a varied elevation" that interested me. Unfortunately (I feel like I use that word a lot- haha!) I found those pesky bog bridges at the very start of both of the trails that left from the parking area. It appeared they went for quite a distance so there wasn't any chance of traversing around them. This is why I wish only boardwalks were used everywhere that makes sense. A boardwalk would make this trail accessible. There are definitely places where it wouldn't make sense to put in the work of building a boardwalk. For instance, there will never be an accessible trail up Mt. Katahdin so bog bridges make sense there. But in so many preserves and trails in Maine, wider boardwalks would not be too difficult to implement and would open up trails to many people.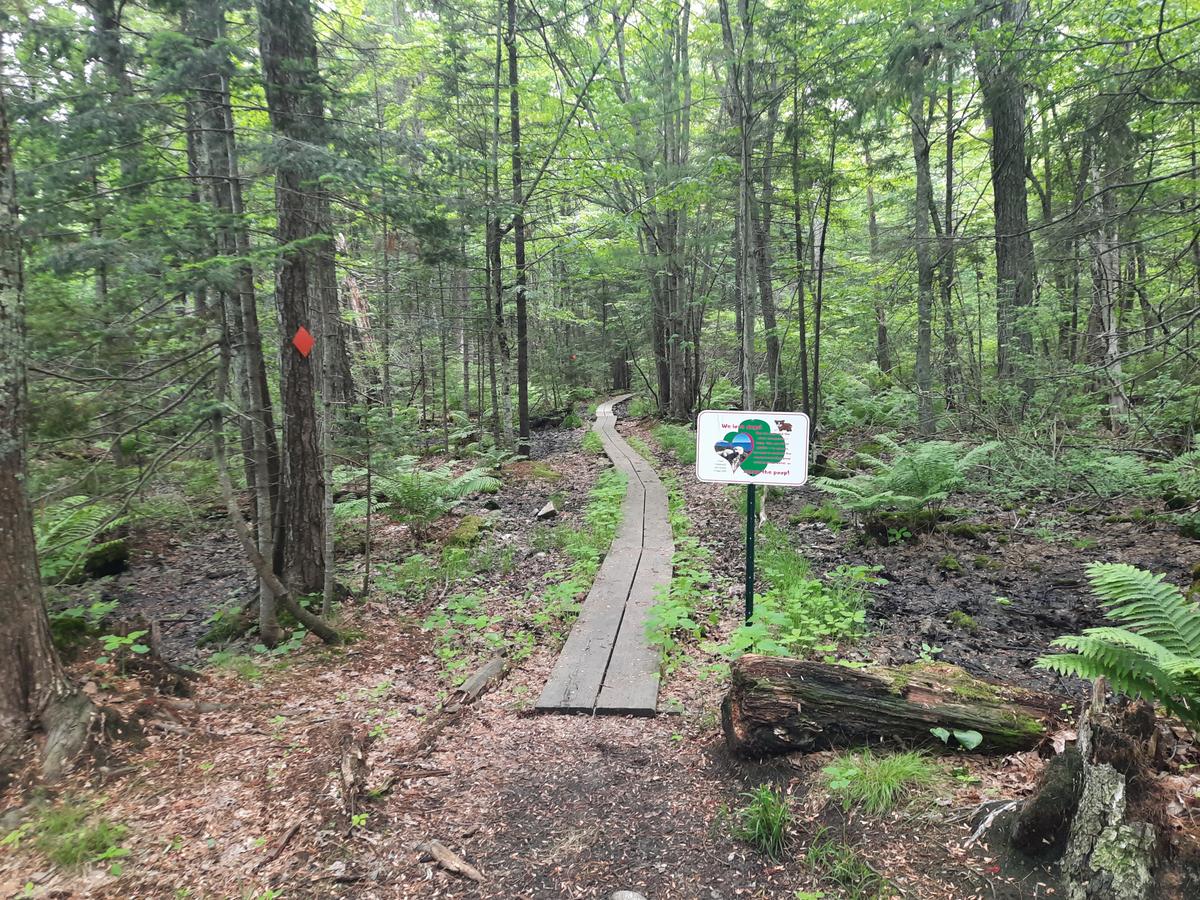 The first of two trails that leave from the parking lot with bog bridges right away.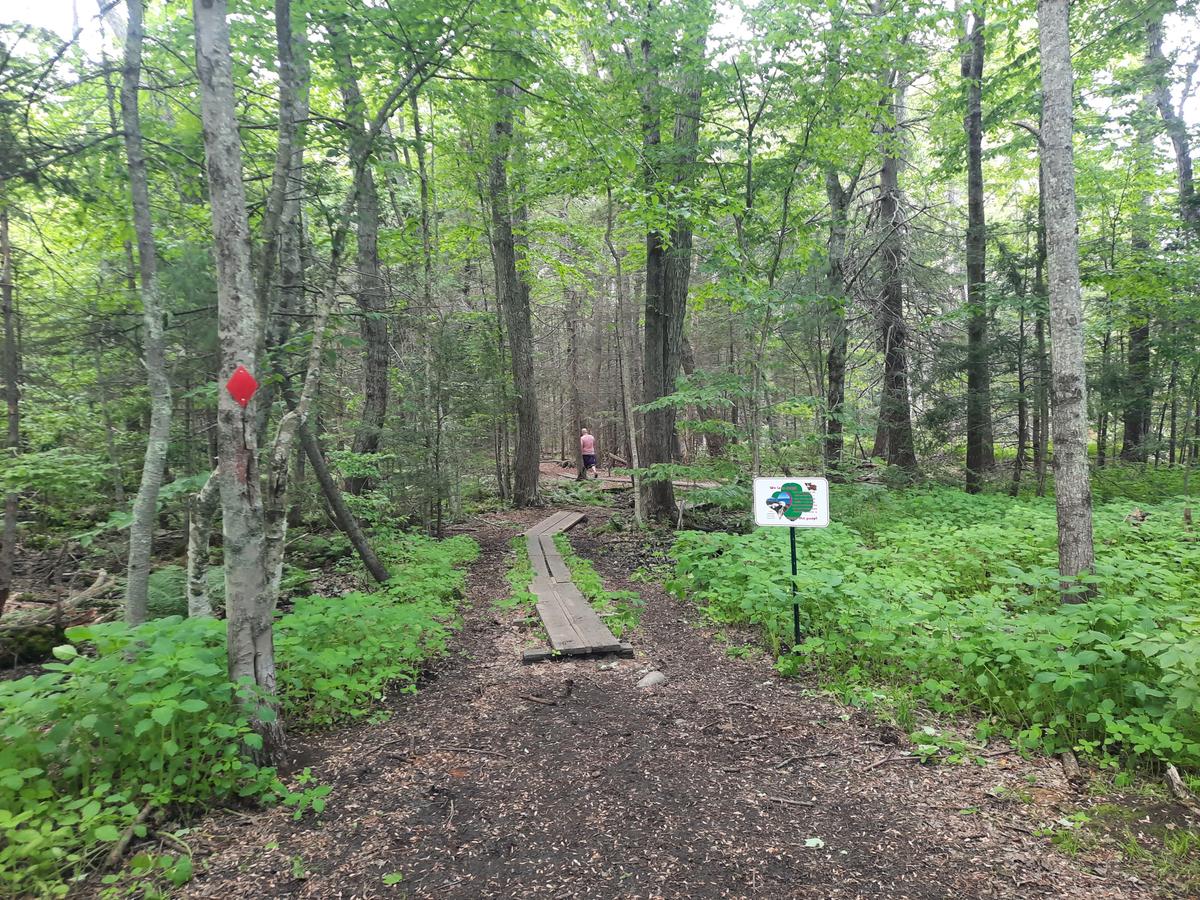 The second trail, starting out with bog bridges.
That's ok though I had a backup plan and it worked out perfectly.
Broad Cove Reserve
I pivoted and went to a trail system, the Broad Cove Reserve managed by the Chebeague and Cumberland Land Trust and the town of Cumberland, that I had seen from another trail blogger and that looked really easy. I looked it up on MTF and it still seemed like a good location to checkout:
"The trails on this property provide access to forests along ME-88 as well as access to the shorefront, including a sand beach, bathhouse, and pier.

The 0.6-mile Stonewall Trail, popular with Cumberland Foreside residents, is a wooded path running parallel to ME-88. It extends both north and south of Beach Drive, with the trailhead located between ME-88 and the parking lot.

To the north, the Stonewall Trail connects to the Spears Hill Trail (0.5 miles) which leads to Broad Cove. A loop can be made by continuing back to the parking lot on the Broad Cove Access Trail, a 0.5-mile gravel road with some steep sections as it climbs up from the shore, and the most direct access to Broad Cove from the parking lot.

Off the Broad Cove Access Trail (0.3 miles from the parking lot), a 0.3 mown path meanders through and loops around a large field."
I chose to try out the Broad Cove Access trail since it leads right to the water and most likely has the best views. The trail does have some steep sections as it says in the description. It is nice and wide with a gravel surface. I don't particularly love gravel because it does make it harder to push my chair, but in this case it wasn't bad at all.
Enock navigating a downhill on the Broad Cove Trail.
The trail follows alongside the road until almost the end. It then becomes the road for a short distance before Surprise! -- another parking lot. Yes, we could have driven all the way in. However, at the first parking lot, it said not to continue for some reason. The signs also never mentions another parking lot. It didn't matter as I wasn't there to drive...I was there to hike. This is another accessible option for those that need it.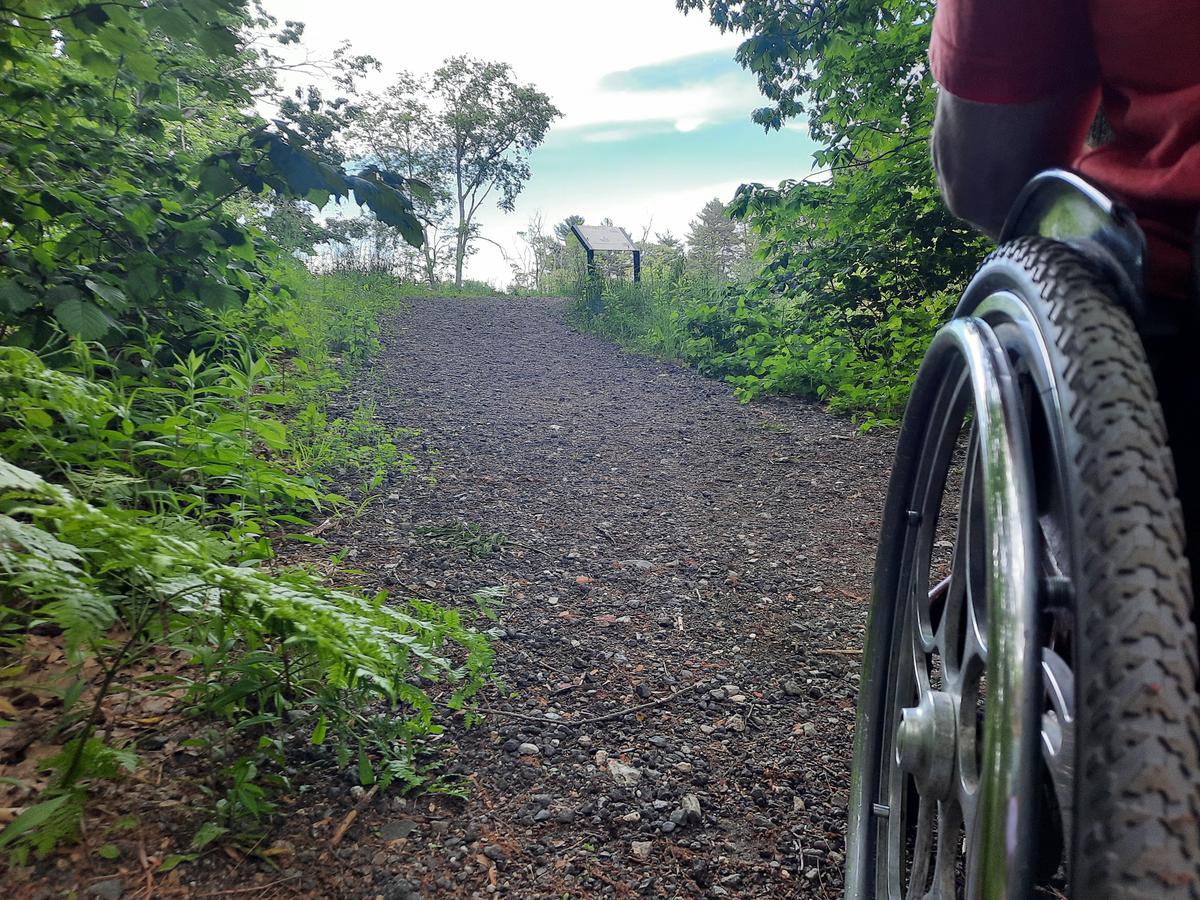 The gravel surface of the Broad Cove Trail.
We made it down to the second parking lot and found a long, quite steep boardwalk out to a long pier. The views were amazing. I needed a push back up the steep boardwalk to the parking lot when we were ready to leave.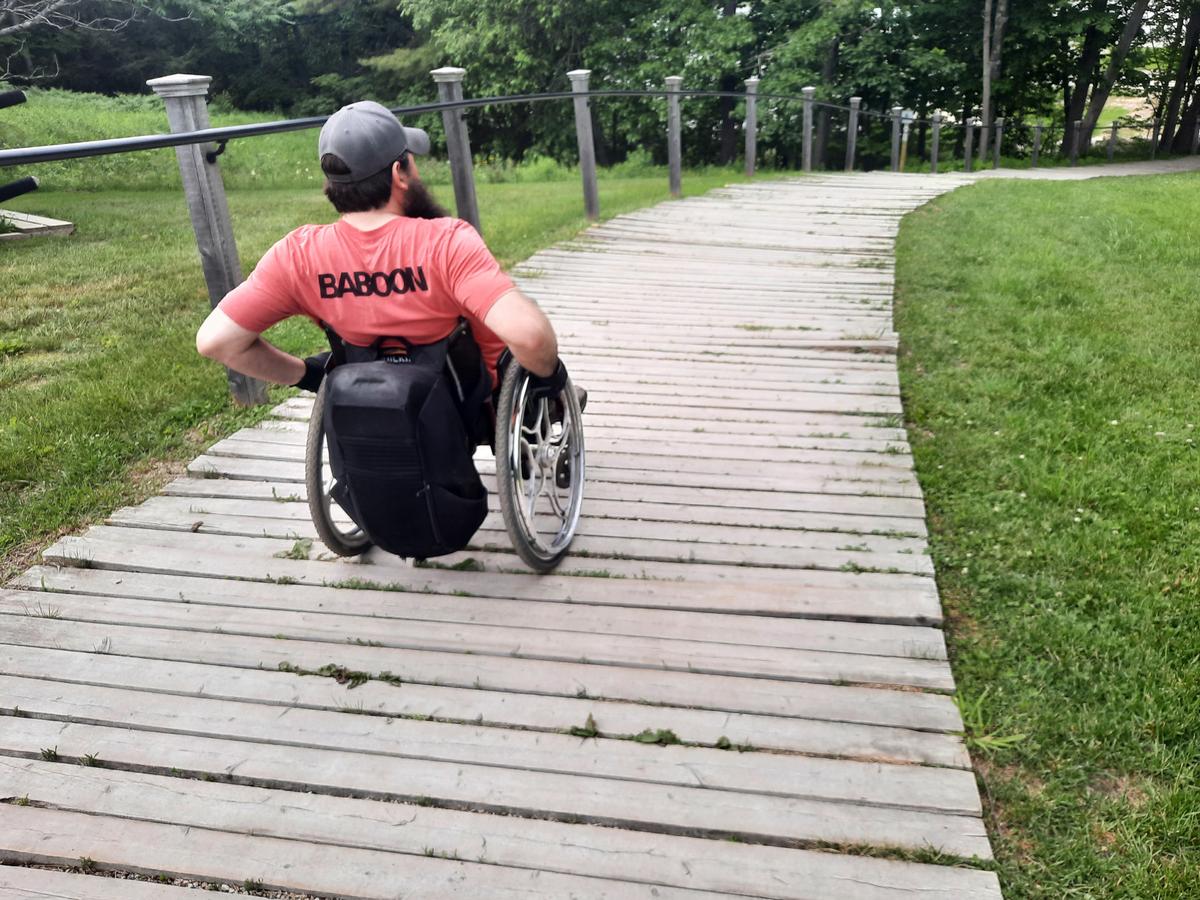 Enock on the boardwalk that leads to the pier.
The pier was pretty perfect to wheel over. Of course, you need to be able to get to it first which for some would not be so easy. There was also access to the beach but only if you could do stairs.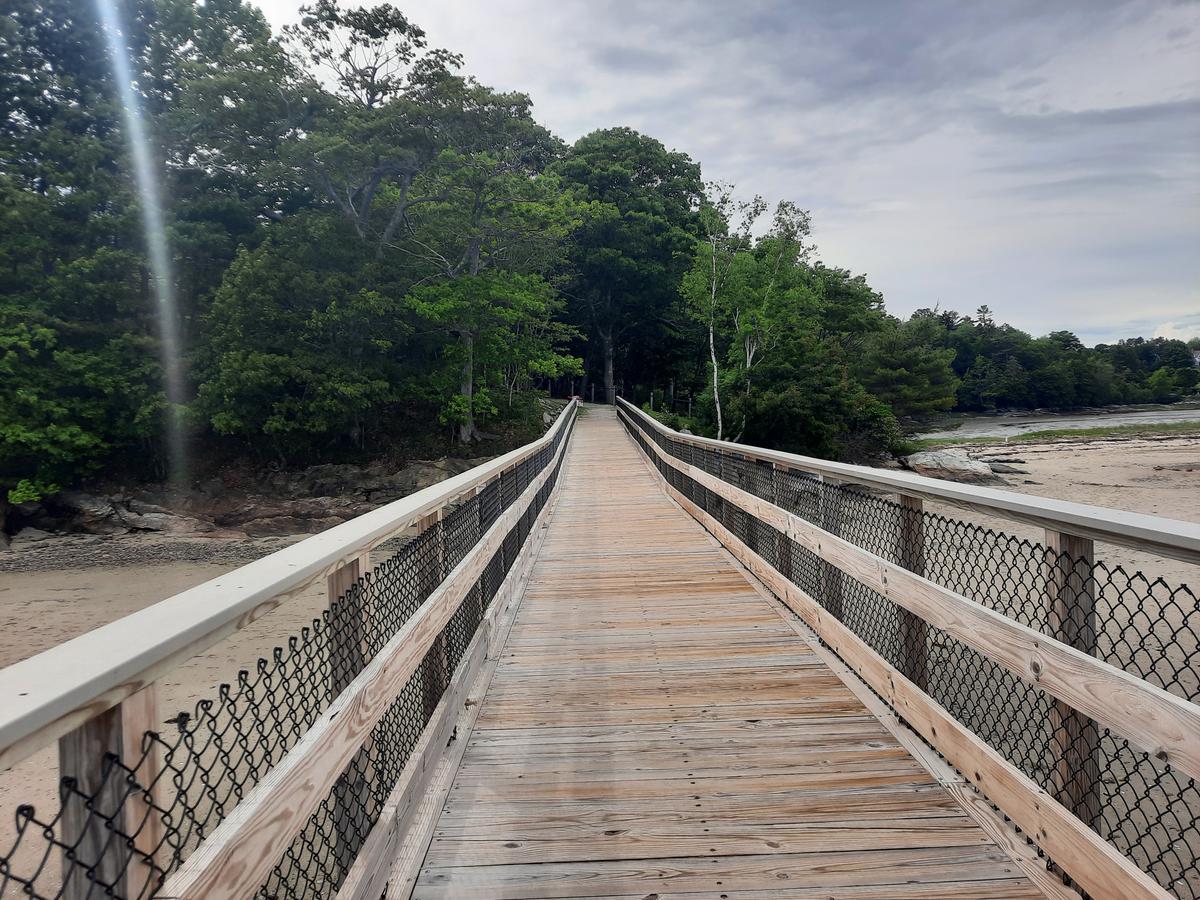 The pier out from the shore.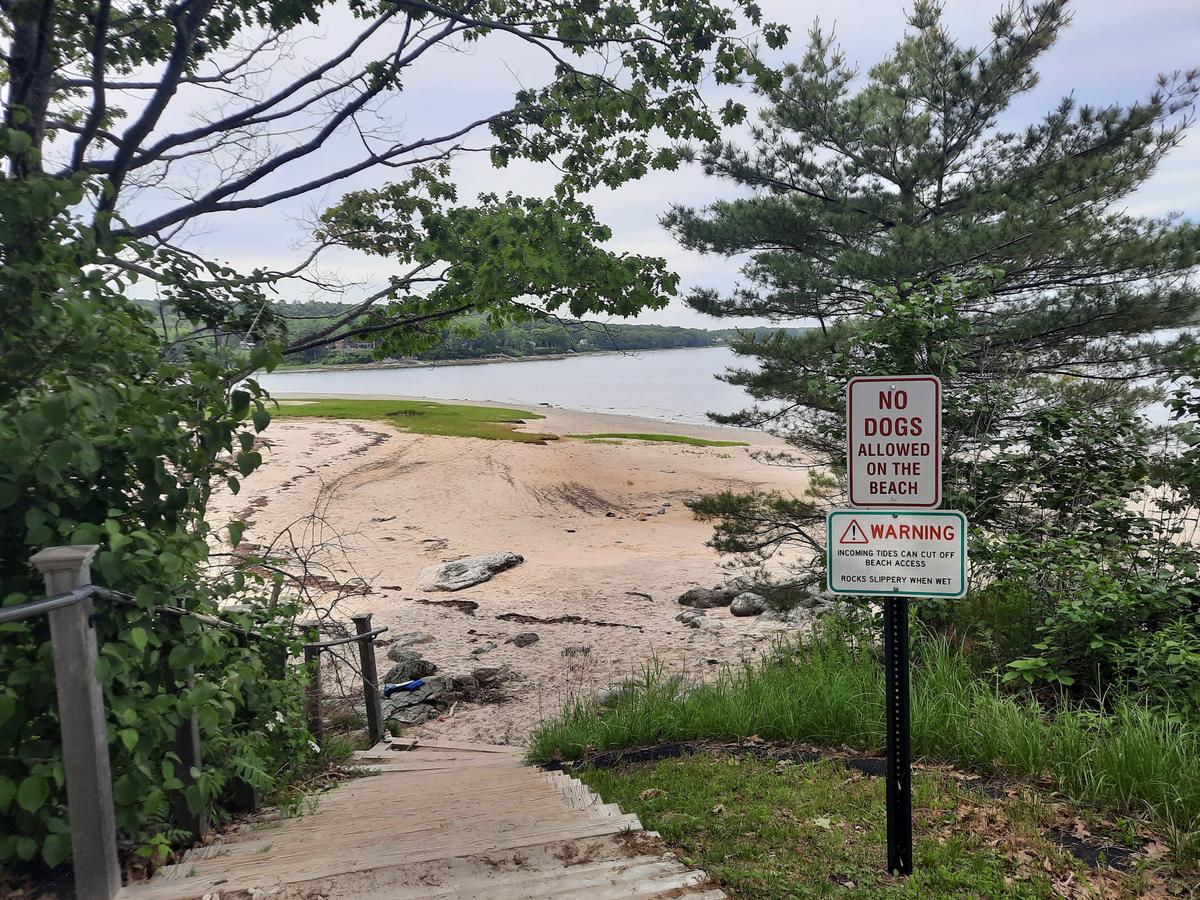 The steps down to the beach.
The awesome part is that there is a person on staff who will drive people back to the first parking lot in a side-by-side. This is a super accessible option if you don't know about the parking lot that is right by the beach.
Checking out the side-by-side.
This trail isn't quite accessible because of the steepness of some of the hills, but it can be a very accessible experience either driving to the end of the road or by taking the side-by-side back to your vehicle. The only problem is access to the beach. I saw a bunch of signs here and at the next place we went that said access to the shore. I kept wondering -- access for who? It certainly wasn't for me without crawling anyway.
A sign saying "Access to Beach" without a very accessible trail.
Mackworth Island State Park
This visit didn't take very long and we didn't need to be home so I decided to check out MTF and find another trail to check out.
I settled on a place I had visited about 6 years ago, Mackworth Island State Park. I knew this one was quite good but I hadn't ever posted about it.
When you arrive at the island you will need to pay a fee if you come before a certain time. It was $3 per person when we got there but after we finished hiking we saw the gate ranger leave. All of a sudden lots of people started showing up. I think there was some local knowledge to be found there.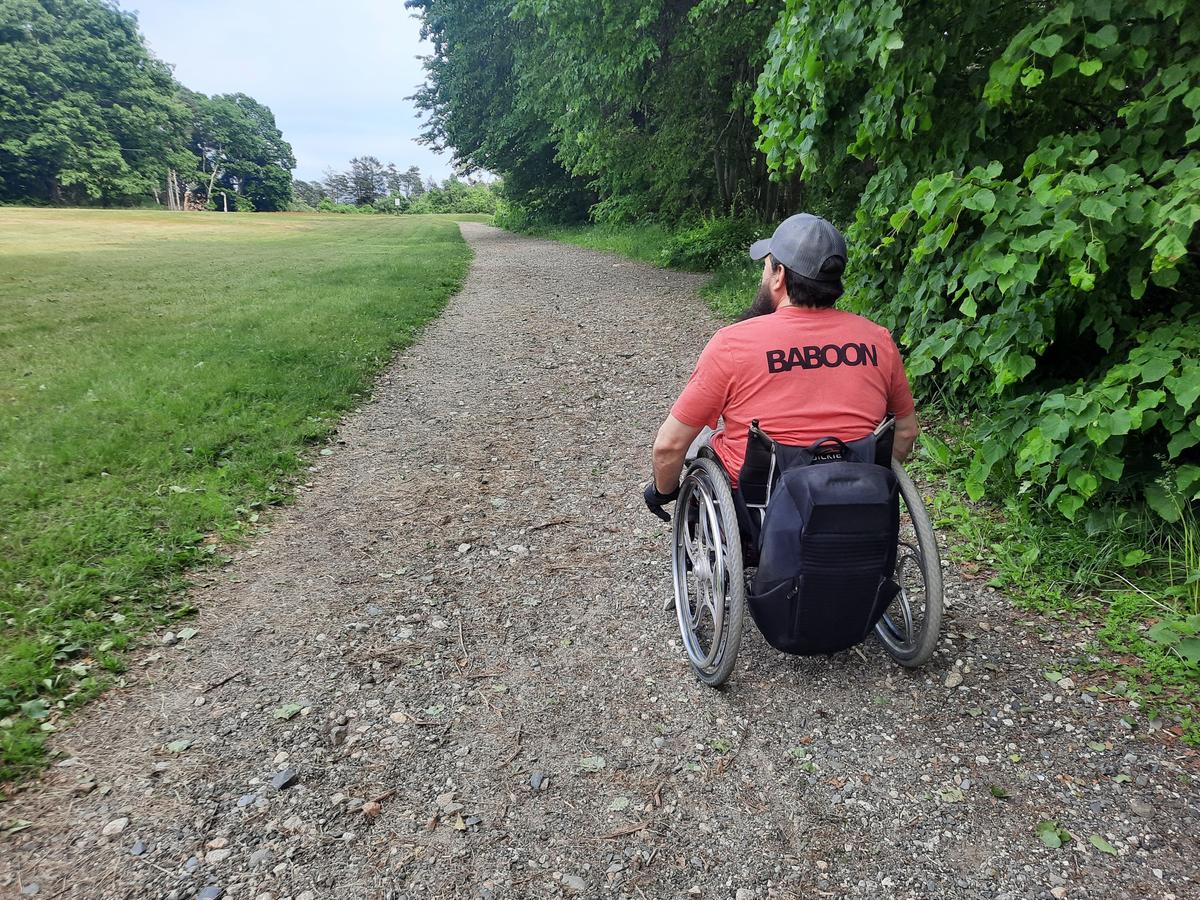 Heading down the trail at Mackworth Island.
Anyway, we started from the parking lot. I started to the trail on the right. After making my way up the hill I noticed the trail to the left was accessible and cut out the hill altogether. It entered the trail I was on at the top of the hill.
I think this is how they made the trail accessible, which is an awesome option. I have said this many times to trail managers. You don't necessarily need to redo an entire trail to make it accessible. You can build accessible sections around inaccessible obstacles like steep hills. There are a few places at Mackworth Island where they chose to use this method. I would like to tell whoever did it -- Awesome Job! By using this method they left the challenging parts while still making them accessible.
Ok off my soapbox and back to the trail. You will find there are some sections with roots and other small obstacles. The trail is so wide that it gives many options to avoid anything that is in your way.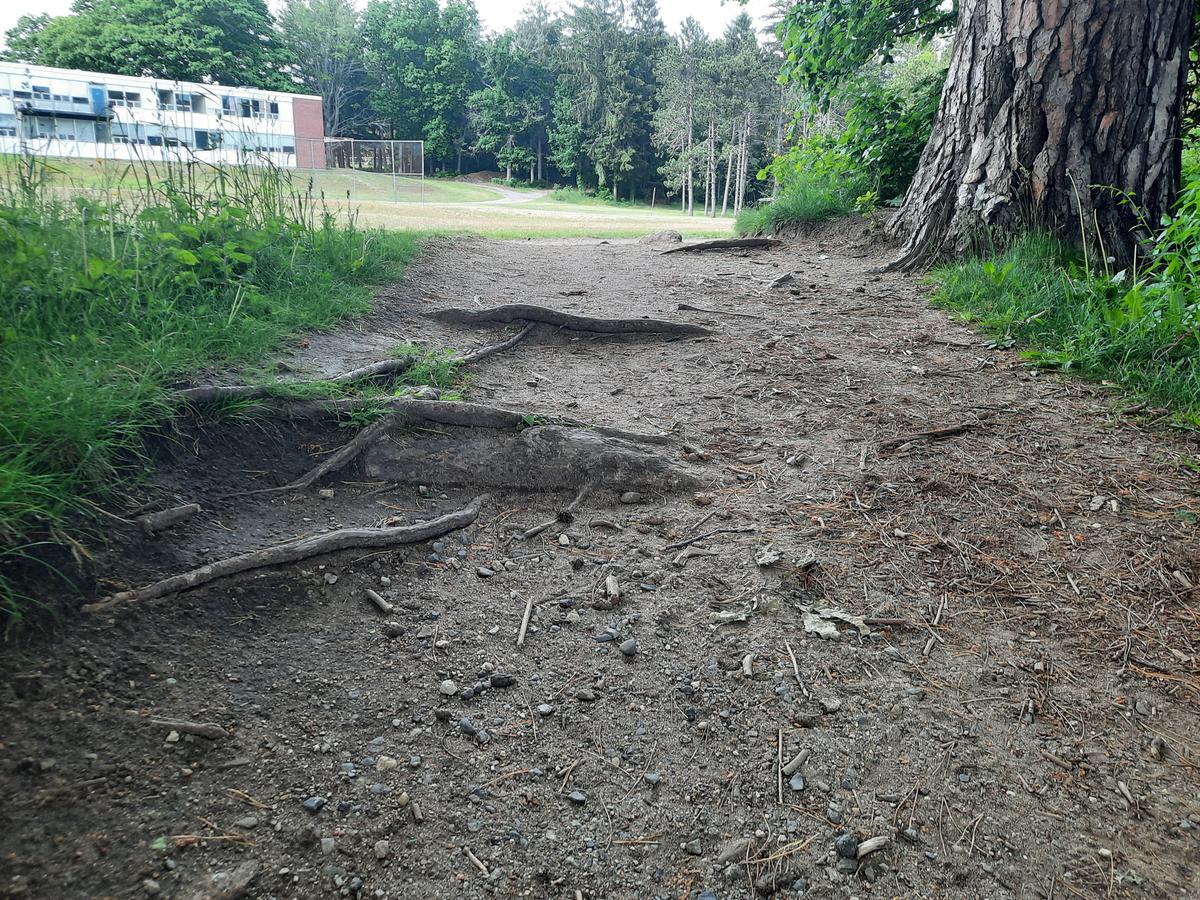 Roots along the trail.
I have to say that even though the trail is quite accessible there is still room for improvement. For example, only one of the resting spots is accessible. There is also a pier that allows people to see amazing views. You will need to be careful because the entrance to it has a brick surface. This needs a bit of work also to be accessible but wouldn't take much at all.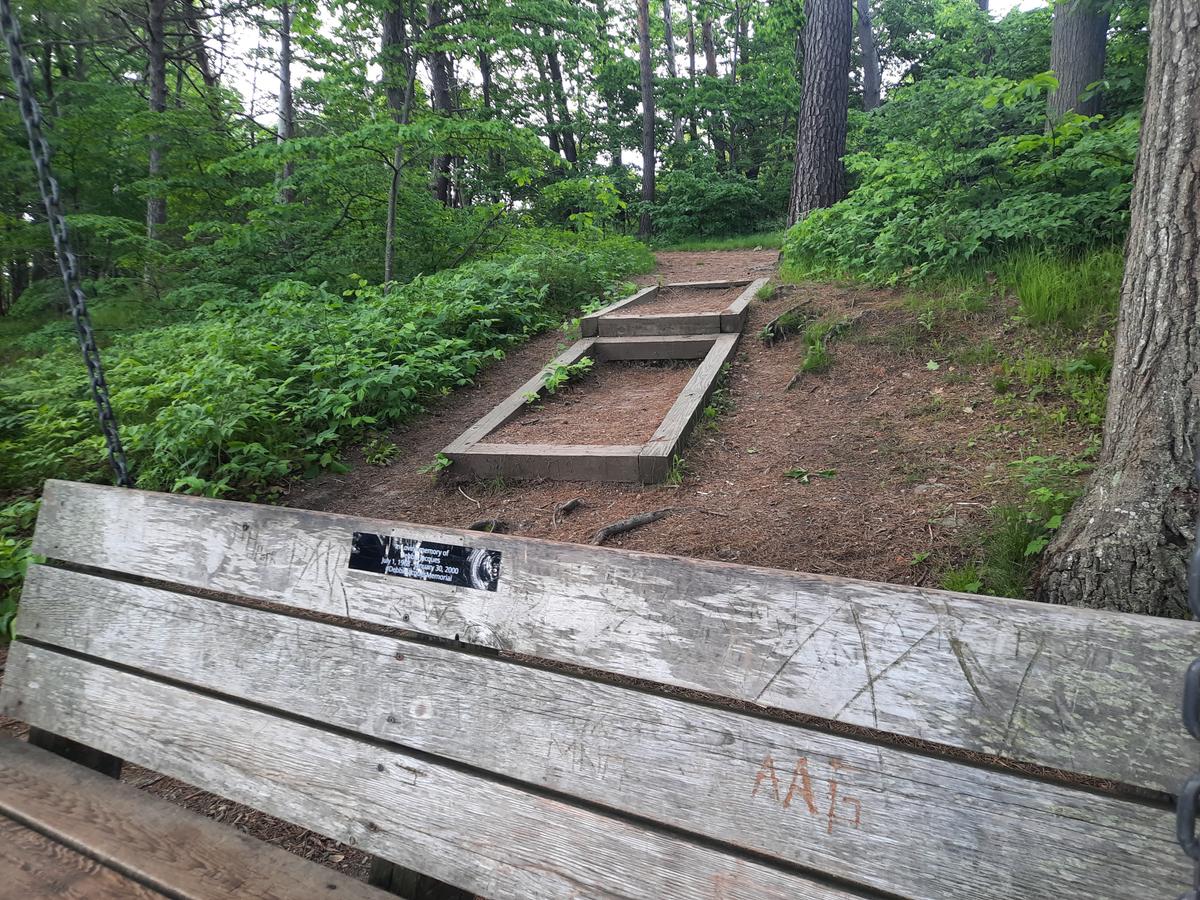 An inaccessible section near a rest area.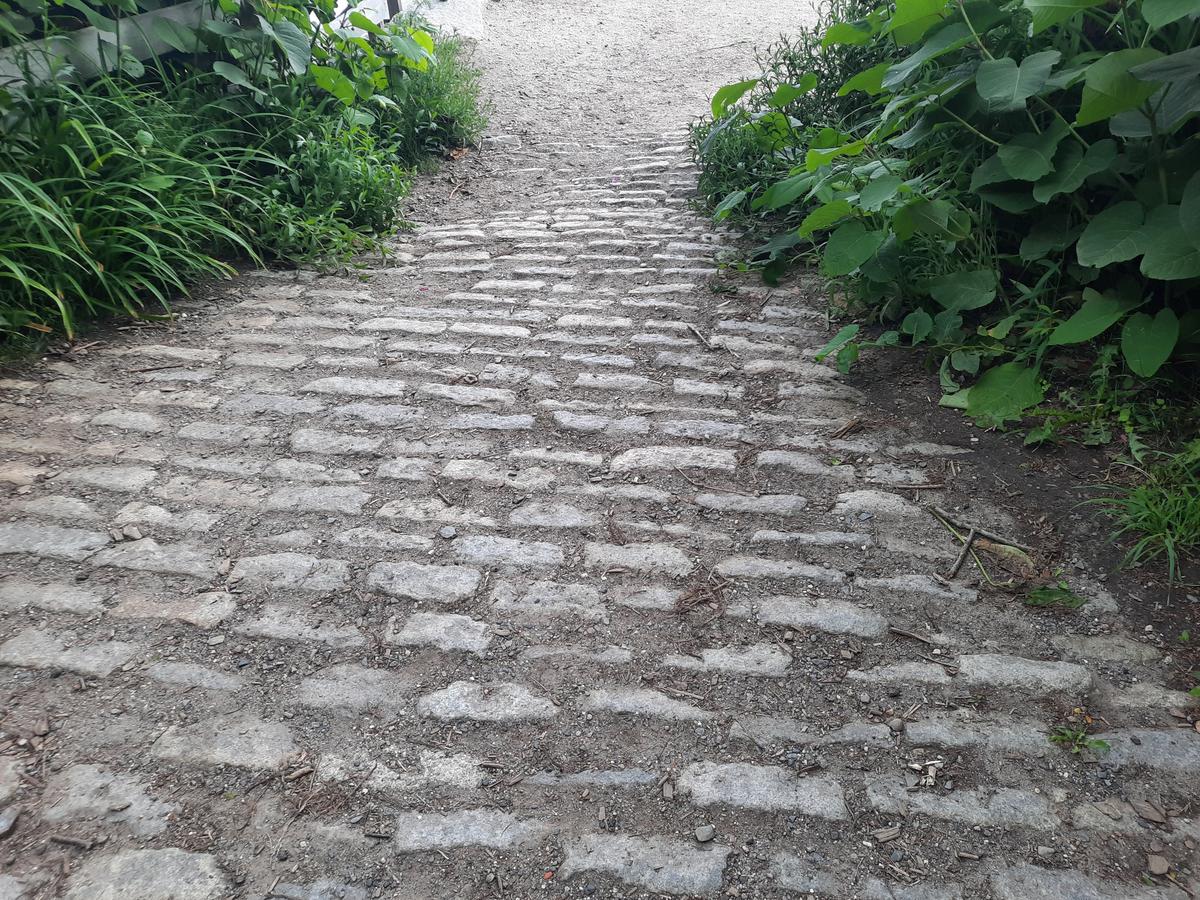 Brick surface leading to the pier.
I have a story about this pier from the first time we visited. There is a set of stairs that is really steep leading down to the beach. Well if you know me by now, you can guess I had to try to get down there. I crawled down the stairs while Sandy brought my chair. The problem here is that it never occurred to us that we were on the ocean and the tide would be coming in. Luckily a man was fishing from the pier who was a bit more observant than us and shouted down - "You might want to come back up the water is almost up to his tires!" This set off a series of struggles with Sandy pushing me up over the rocks. Luckily we did make it before the ocean overtook us! We check the tides now.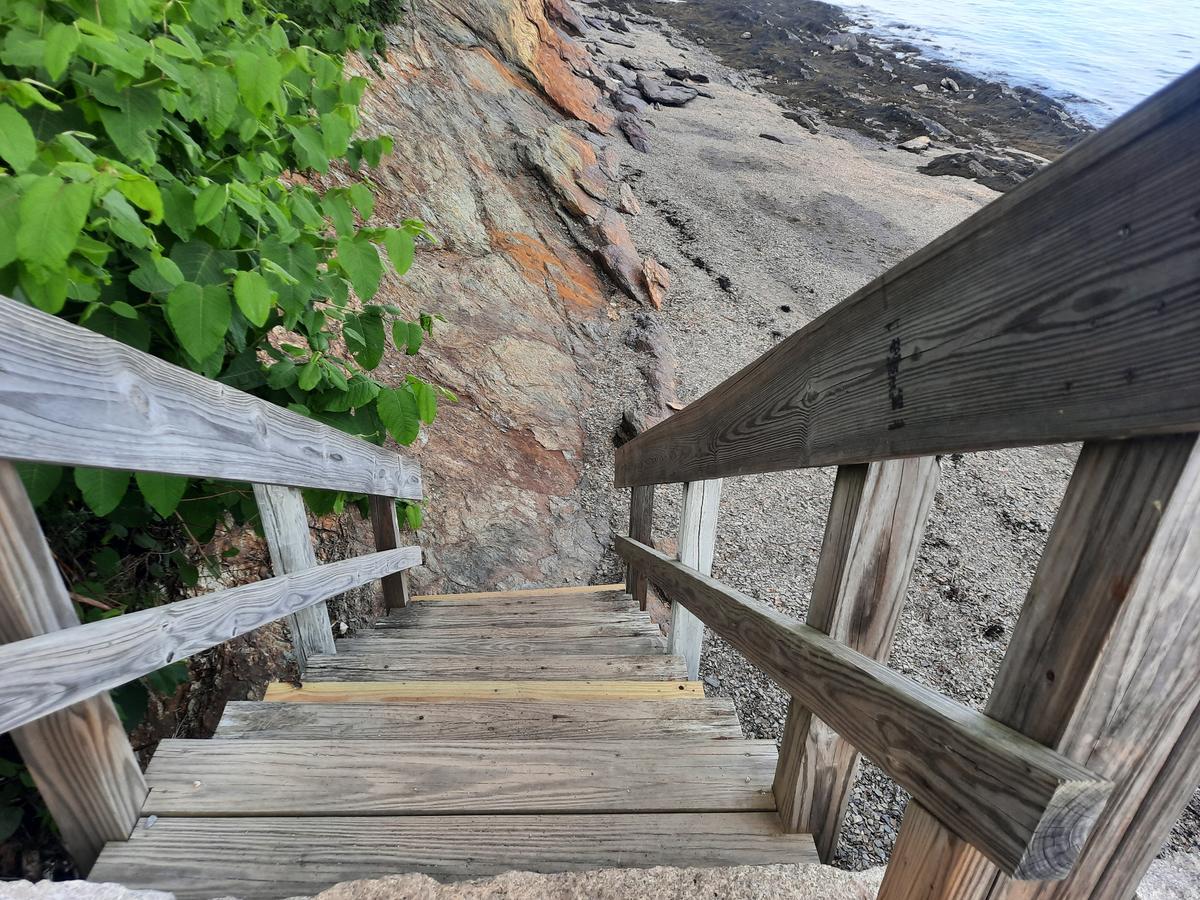 Steep steps down to the beach.
The views are worth venturing out onto the pier as long as you are careful.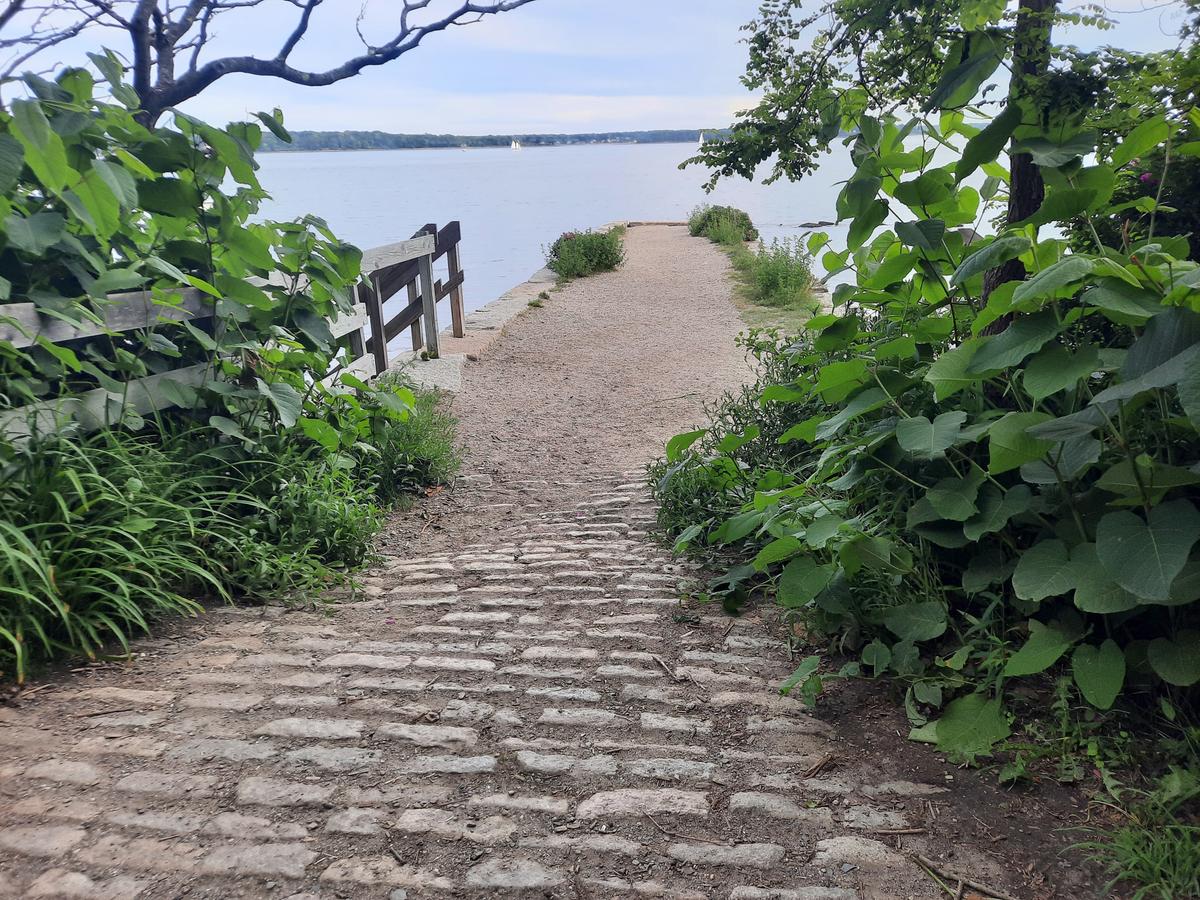 Heading out to the pier.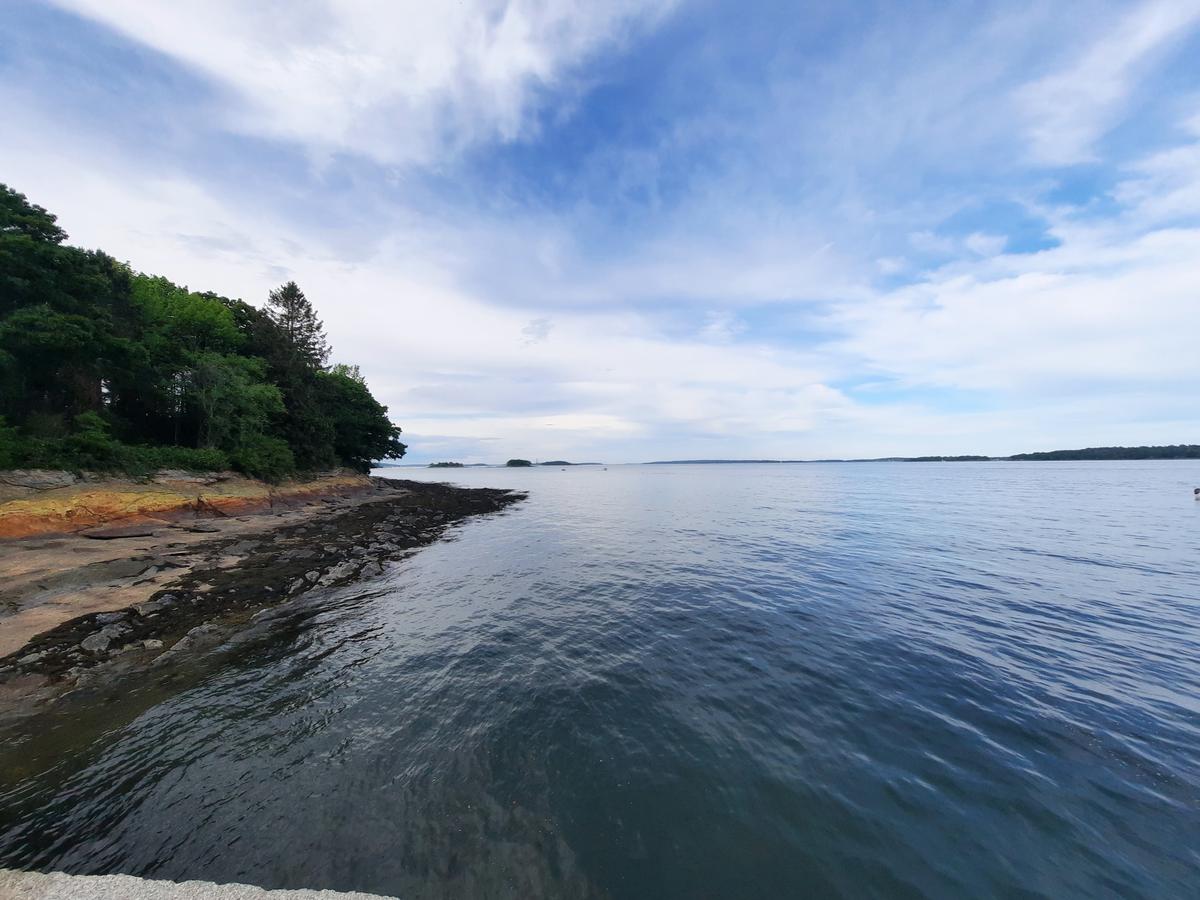 Spectacular view of the ocean from the pier.
When we made it back to the parking lot we were super hungry. There is a picnic table in a wooded area just off the parking lot that made for a nice end of the day.
This trail is accessible if you use all the side trails they have created around barriers. There are some roots but the trail is wide enough to navigate around anything that is inhibiting the path. The only thing that may make it not accessible is the resting spots. Hopefully, at some point, they can upgrade those areas and make it as perfect as possible.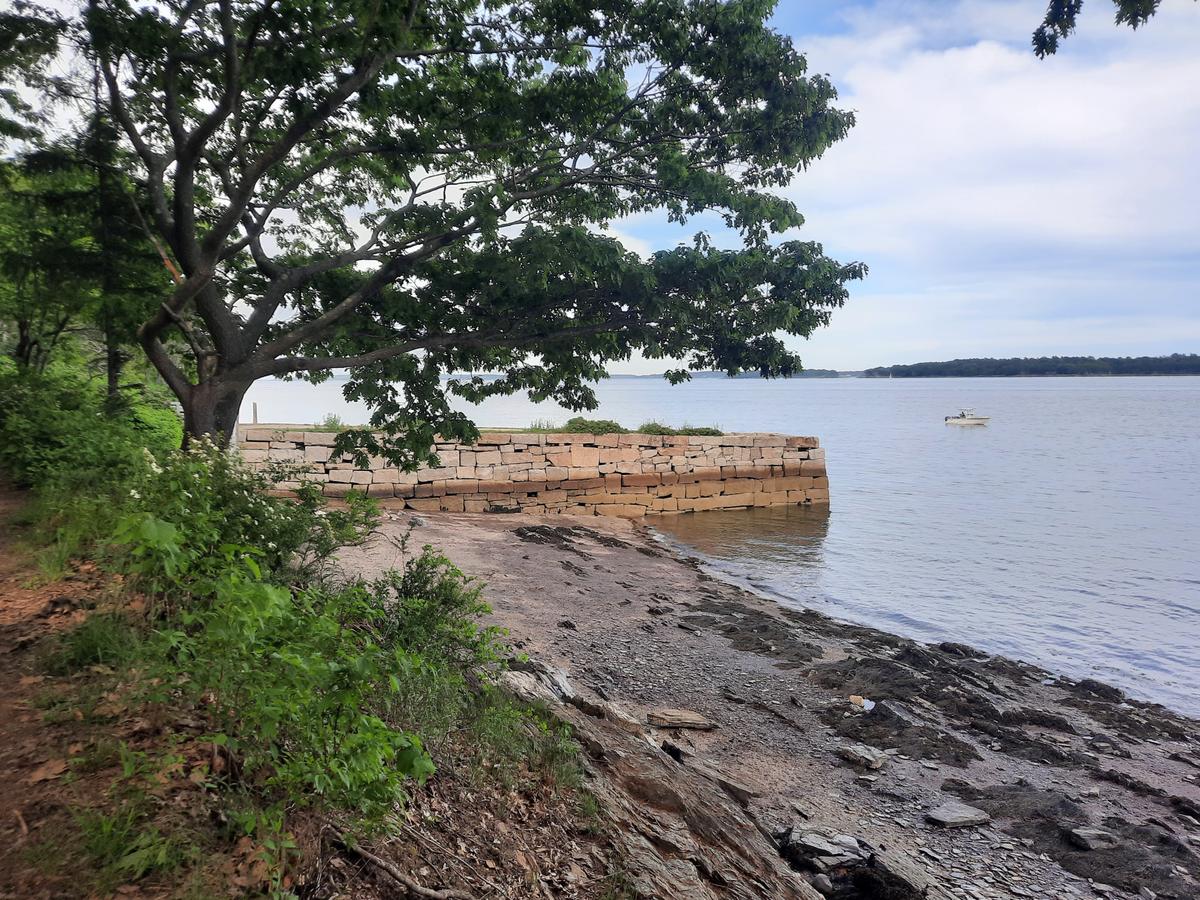 A view of the pier at Mackworth Island.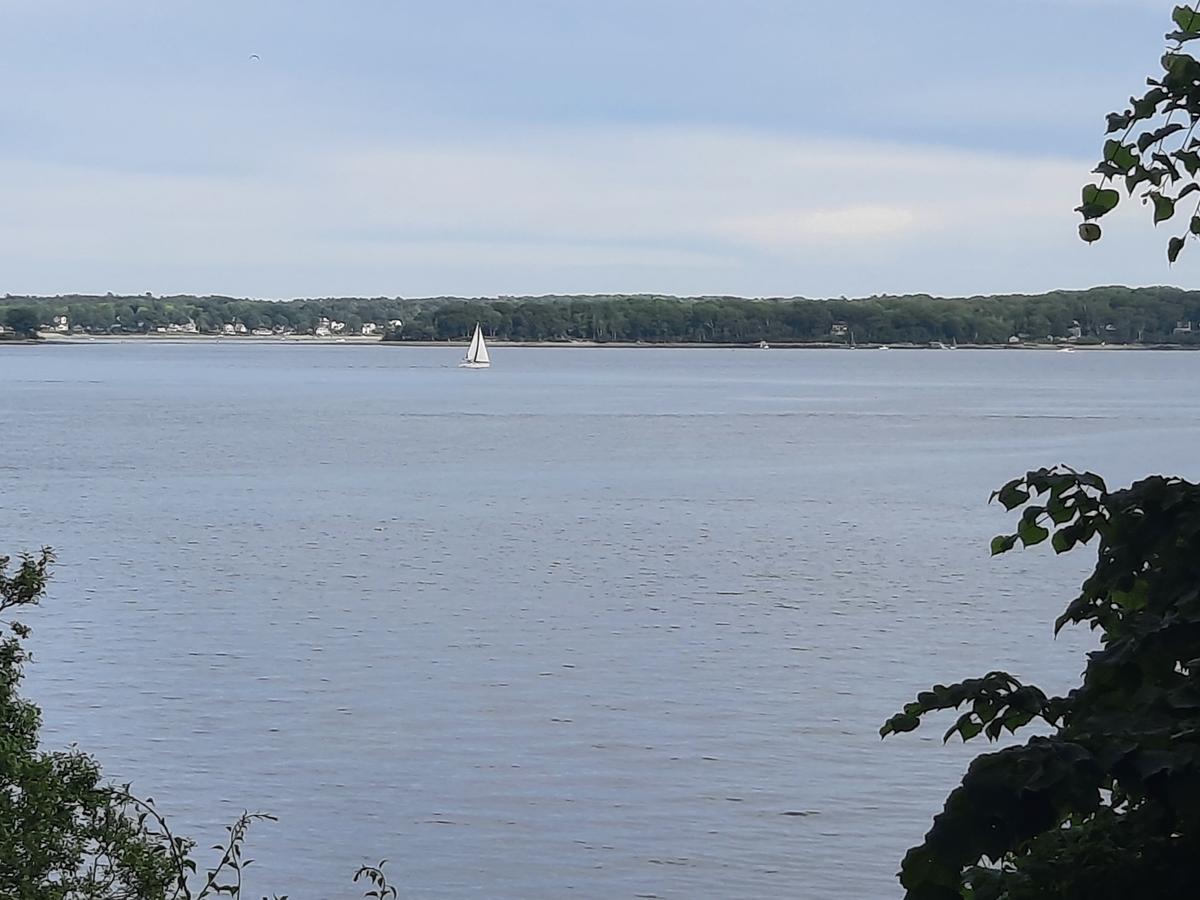 Another view out over the ocean.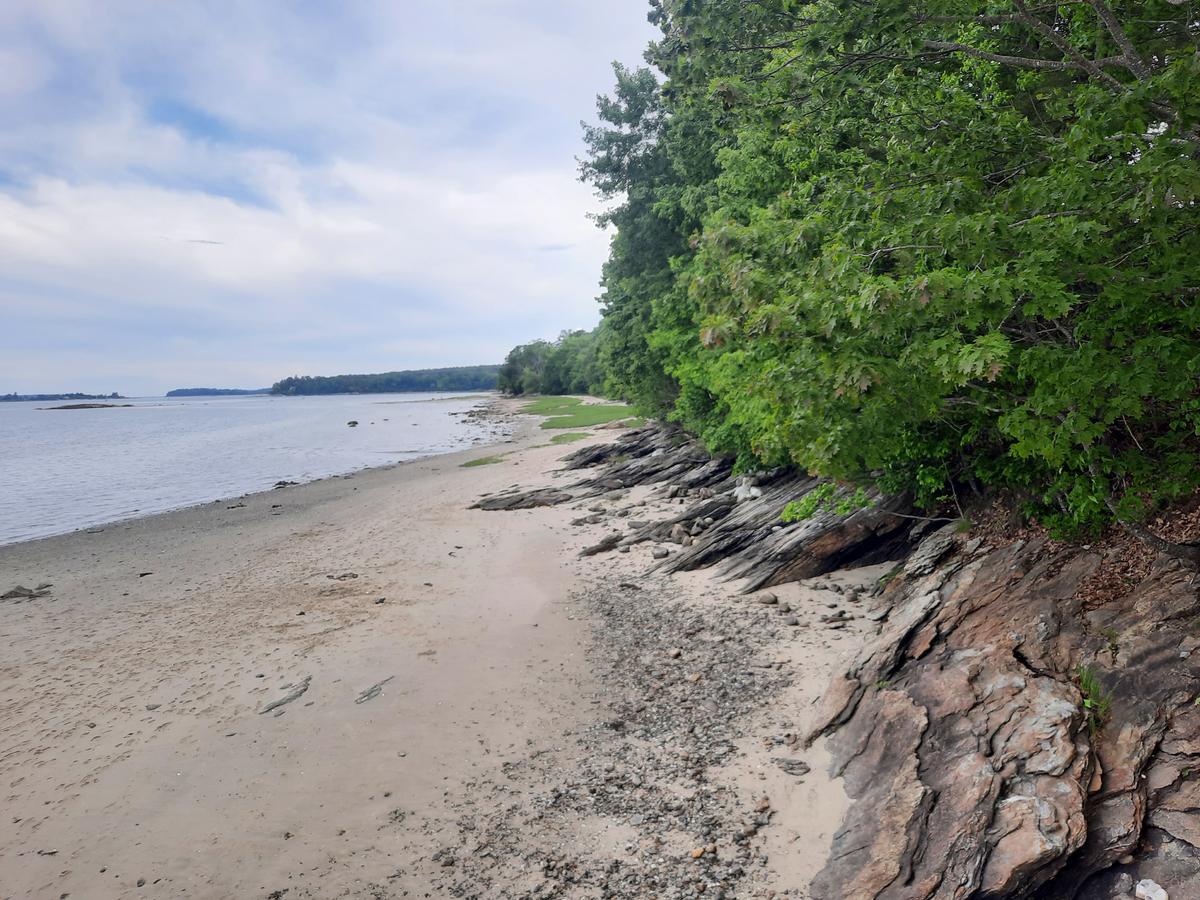 And a view from the beach at Broad Cove Reserve.
This year I am hoping to get some group or one on one hikes together. I would love to interview other people with disabilities about their experiences in the outdoors. The more perspectives we can get the better the information will be and the more progress we can make. Please contact us if you are interested in collaborating or joining me on a hike!
If you have a different type of mobility issue or a different disability and you visit this trail or others, please comment on this post and give us your feedback. If you would like to visit a trail with Enock feel free to reach out. He would love to have people join him in the outdoor spaces of Maine. The more knowledge we gather and share, the more people we can get outside using the trails of Maine!