Description
This trail network describes the northern trails system of Camden Hills State Park.
Multi-use Trail (5 miles, moderate): This trail is available for hiking, biking, cross-country skiing, snowshoeing, snowmobiling and even horseback riding. While it is the park's longest trail, running from Camden Hills campground to ME Route 173, its well graveled and graded surface accommodates all user groups. The trail follows an easy contour at the base of Megunticook through mixed forest and nearby bogs where birds and wildlife abound. At midpoint, users will find a recently completed replica of a ski lodge constructed some 70 years ago. The Multi-use Trail also provides access to several trails in the northern section of the park.
Bald Rock Trail (0.5 mile, easy to moderate): Bald Rock Trail is accessed at a junction on the Multi-use Trail 1.3 miles south of the parking lot on ME Route 173. The Bald Rock Trail heads east to a barren 1,200' summit for which the mountain was named. Many regard this trail as offering the park's best views of Penobscot Bay. Two Adirondack shelters and an outhouse are located just under the summit.
Frohock Mountain Trail (1.9 miles, moderate): Frohock Mountain Trail is a hiking and mountain biking trail accessed a short distance south of the Multi-use parking lot on ME Route 173. The natural surface of rocks and roots makes for a challenging, but highly rewarding ride. Hikers and bikers alike will transverse several steep slopes through mixed oak and spruce forests, over three small mountain summits. For a longer ride, Frohock Mountain Trail may be accessed via the Multi-use Trail from the park's campground.
Cameron Mountain Trail (1.9 miles, moderate): Heading west from the Multi-use Trail at the intersection of Bald Rock Trail, this delightful trail, open to hiking, biking, horseback riding and snowmobiling, gradually ascends through old farmland and past blueberry fields. Cameron intersects with Zeke's Trail offering access to the interior of the park and back to the Multi-use Trail. Alternatively, hikers may utilize the Sky Blue Trail as a return route.
The Sky Blue Trail (1.5 miles, easy): This is accessed via the Multi-use Trail or the Cameron Mountain Trail near its intersection with Zeke's Trail. The rarely frequented Sky Blue Trail meanders through blueberry fields and mature forest. An especially rewarding feature is a vernal pool near its lower terminus.
View BPL's map and guide for Camden Hills State Park.
Other Information
In addition to hiking, biking, cross-country skiing and snowshoeing, Camden Hills allows opportunities for picnicking, horseback riding, snowmobiling, hunting and camping. Please exercise caution on ledge and rock areas, especially in wet conditions. Camden Hills State Park Campground is open from May through September. Reservations are highly recommended during the summer season. Amenities include bathhouses, a dumping station, RV hookups and wireless internet access. Group shelters are also available by reservation. Firewood can transport invasive insects and diseases. Do not transport firewood. Please buy it locally and help protect our forests!

This trail passes through a property that was acquired in part with funds from the Land for Maine's Future program. For more information about the LMF program and the places it has helped to protect, please visit the LMF webpage.
Trail Manager
Visit Maine Bureau of Parks and Lands online for more information and a printable map or contact: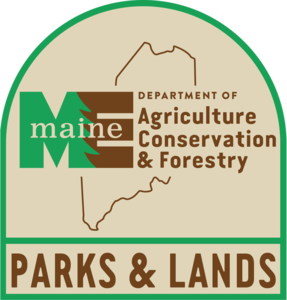 Maine Bureau of Parks and Lands, Camden Hills State Park
280 Belfast Road
Camden, ME 04843
Phone: (207) 236-3109