Description
This network describes trails in the southern end of Camden Hills State Park.
Mount Battie Trail (0.5 mile, moderate): The Mount Battie Trail offers a relatively short, but very rewarding hike up the south-facing side of the mountain. Although there are some steep pitches, and a bit of scrambling through rock and ledge areas is required, the view over Camden and the islands dotting Penobscot Bay makes this climb well worth the effort. Ascending the stone tower on Mount Battie's 780' summit further enhances the opportunity to soak in the 360-degree panorama.
Carriage Trail (0.5 mile, moderate): The Carriage Trail climbs steadily through the woods and intersects with the Carriage Road Trail to the summit of Mount Battie and ends at the Tablelands Trail.
Carriage Road Trail (0.8 mile, moderate): This trail follows and in some instances parallels a once well-used carriage road providing horse-drawn access to the Summit House, a popular private clubhouse and social center at the turn of the twentieth century.
Tablelands Trail (1.5 miles, moderate): Descending from the summit of Mount Battie, the trail winds its way northward through woodlands, rises to a series of plateaus, and then climbs steadily to the Ocean Lookout at 1300'.
Nature Trail (1.2 miles, easy): The Nature Trail is the trail of choice to reach the Tablelands Trail from the camping area. This pleasant hike through the north-easterly facing forested slope will take about an hour. At the Tablelands Trail intersection, you can turn left and proceed to the summit of Mount Battie or a right turn will take you to Ocean Lookout and to the highest point in the park at the summit of Mount Megunticook. Examples of the park's abundant and varied flora and fauna are evident on the appropriately named Nature Trail.
Other Information
In addition to hiking, biking, cross-country skiing and snowshoeing, Camden Hills allows opportunities for picnicking, horseback riding, snowmobiling, hunting and camping. Please exercise caution on ledge and rock areas, especially in wet conditions. Camden Hills State Park Campground is open from May through September. Reservations are highly recommended during the summer season. Amenities include bathhouses, a dumping station, RV hookups and wireless internet access. Group shelters are also available by reservation. Firewood can transport invasive insects and diseases. Do not transport firewood. Please buy it locally and help protect our forests!

Natural Heritage Hikes is a project of the Maine Natural Areas Program in partnership with Maine Trail Finder. View the "Camden Hills State Park - Megunticook Trail, Adams Lookout Trail" guide online here.
Trail Manager
Visit Maine Bureau of Parks and Lands online for more information and a printable map or contact: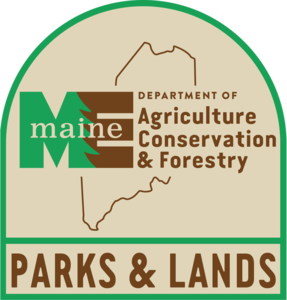 Maine Bureau of Parks and Lands, Camden Hills State Park
280 Belfast Road
Camden, ME 04843
Phone: (207) 236-3109