Description
The hiking trails on Black Mountain provide numerous views of nearby hills and mountains, clear lakes and ponds, and to the southwest - Frenchman's Bay and the profile of Acadia National Park. The trails wind up, around, and over granite ledges. Expect to encounter roots, rocks, and infrequent low muddy spots. While Black Mountain (1094') is not particularly high in elevation, segments of trails are moderately steep.
Black Mountain Cliffs Loop (2.9 miles moderate): Schoodic Beach Parking Area - this popular trail head is the starting point for hiking to the cliffs on the western side of Black Mountain. The hiking begins just after passing through a boulder barricade at the end of the parking lot. Turn right off the beach access trail (old Jeep trail) and hike 1.2 miles to a trail junction on the southwest flank of Black Mountain. From here, head northwest (left if coming up the hiking trail straight from the parking lot) and travel atop the Black Mountain. Cliffs towards a descent to Schoodic Beach, at the southern end of Donnell Pond. This 1.3 section brings you to the beach and the end of the jeep trail from the parking area. Head up the beach access to return to the parking area (0.5 miles of easy uphill walking).
Black Mountain Western Summit (1.9 miles, moderate): Hikers looking to reach the western summit of Black Mountain can take the 1.2 mile trail section from the Schoodic Beach Parking Area and then continue northwards 0.6 miles to the summit of Black Mountain. From this point atop the western summit of Black Mountain, one can link into the Caribou Loop Trail, an extra 6.1 miles of trail in the northern half of the unit.
Black Mountain - Big Chief Trail (1.6 miles, moderate): The Big Chief Trail starts 2.2 miles down the Black Mountain Road. It climbs steadily through mixed woods and transitions into spruce and fir shortly before crossing onto open ledges with extensive views to the south and east. At 0.6 miles, stone cairns and signs direct hikers in several directions towards different destinations.
Heading generally northeast, the trail to Black Mountain's east peak dips down and crosses the outlet of Wizard Pond in a mossy hollow populated by cedar trees before climbing back up to the bald east peak (this trail section covers 0.6 miles to reach the east peak). Look northward for views of Caribou and Catherine's mountains as well as Tunk Mountain.
From this point, hikers may continue northeasterly on the Caribou Loop Trail (described separately on Maine Trail Finder) or can turn west and head towards Black Mountain's western summit and Black Mountain Cliffs. At 0.3 miles west of the east peak, a 0.5-mile connector trail links back to the first trail junction 0.6 miles above the Big Chief trail head where the hike began.
View BPL's map & guide for Donnell Pond Public Reserved Land.
Other Information
The majority of trail described here runs through a 1,940-acre ecological reserve designated to protect and study the unique natural areas and plants found on Black Mountain.
Stay on trail to minimize damage to plants and soils. Whenever possible, walk on rocks to reduce erosion and to protect sensitive plants. Cairns, constructed piles of rocks, are used to mark trails on open ledges. Do not make your own cairns or construct "rock art". Other visitors are looking to experience nature and may very well not appreciate rock art and can be mislead by confusing, inappropriate piles of rock. Additionally, removing rocks from fragile soil can create the opportunity for erosion to remove entire areas of soil/vegetation.
Water-access campsites are found on Donnell Pond, the southern end of Tunk Lake, and Spring River Lake. Walk-in access to campsites is available via the Schoodic Beach access trail.

Natural Heritage Hikes is a project of the Maine Natural Areas Program in partnership with Maine Trail Finder. View the "Black Mountain - Big Chief Trail" guide online here.
Trail Manager
Visit Maine Bureau of Parks and Lands online for more information and a printable map or contact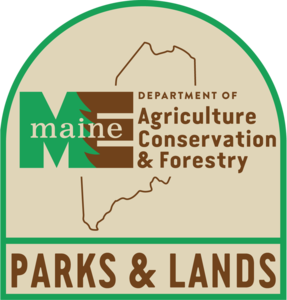 Maine Bureau of Parks and Lands, Eastern Public Lands Office
106 Hogan Road, Suite 5
Bangor, ME 04401
Phone: (207) 941-4412