Description
The Little Mayberry Cove Trail runs approximately two and a half miles along the western shoreline of West Grand Lake. The trail begins at the village of Grand Lake Stream and follows moderately rolling terrain through mossy stands of hemlocks and pines, ending at a quiet cove. Hikers can return on the same trail, or loop back via interior logging roads.
The shoreline trail is intended for foot traffic and day-use only. Tread lightly. The trail also passes near several privately owned camps; please respect the privacy of the owners. Overnight camping is not permitted along the trail.
Other Information
The Downeast Lakes Community Forest is a 55,678-acre community asset and public resource managed by the Downeast Lakes Land Trust who focuses on managing the property for wildlife habitat, public recreation, and a sustainable timber economy.

This trail passes through a property that was acquired in part with funds from the Land for Maine's Future program. For more information about the LMF program and the places it has helped to protect, please visit the LMF webpage.
Trail Manager
Visit Downeast Lakes Land Trust online for more information and a printable map or contact: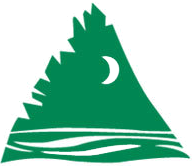 Downeast Lakes Land Trust
4 Water Street
Grand Lake Stream, ME 04668
Phone: (207) 796-2100
info@downeastlakes.org
View website