Description
Most of these three- to four-foot wide single track trails are accessible to novice riders. They are surfaced with locally-sourced crushed shale mixed with hardpan soil, and loop through a variety of forest types. For those looking for a challenge, a more difficult 0.6 mile trail cuts through the middle of the network. The mountain biking trails were designed by the International Mountain Bicycling Association.
In addition to the network of purpose-built single track trails, Hammond Ridge and Black Cat Mountain have a wide network of cross-country ski trails and roads that riders can usually access as conditions permit, with plenty of hills to provide a workout.
Other Information
Fat bikes are available for rent at the New England Outdoor Center. Contact NEOC at (800) 766-7238 for additional information or to reserve a bike.
Trail Manager
For more information, visit the Katahdin Area Trails website, or contact: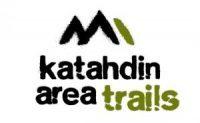 Katahdin Area Trails
PO Box 669
Millinocket, ME 04462
Phone: (207) 723-5438
info@katahdinareatrails.org